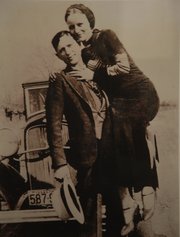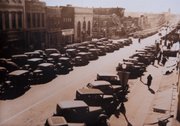 -->
It is 1932 and, gee willikers, a bank robber can't catch a break these days.
Almost 5,000 banks — really, 5,000 banks — have closed as a result of this Great Depression. It is tough to even find a bank worth robbing. But a novice — a malcontent straight out of the hoosegow — decides to get into the business anyway.
Clyde Barrow reads a newspaper article about how a bank had been hit for big money up in Minnesota. Up north must be where the money's at. Barrow and two other fellows — Ralph Fults and Raymond Hamilton — take out from Texas to the tiny Minnesota town of Okabena.
But holy hootenanny, there's snow up there. And ice. You try driving a getaway car in that muck. But the fellows remember driving through a Kansas town that looked to actually have a prosperous bank. What was its name? Yeah. Lawrence.
So drive, drive, drive. One room at The Eldridge Hotel, please. The First National Bank of Lawrence at the corner of Eighth and Massachusetts is visible from the hotel. It is a bustling bank. Maybe too busy for these grifters. Robbing banks is new to them. Handling a crowd is something they don't need to deal with on their first time out.
But think of the cabbage that has to be in that vault. So they keep watching. The next morning, they see the bank president walking down Massachusetts Street. He's alone, and he unlocks the front doors about 10 minutes before any other bank employees arrive.
The next morning, Barrow and Fults meet the bank president at the front door. Barrow shows him a sawed-off shotgun that's under his overcoat, and it looks like this job is going to be aces. But now, two bank employees are walking up the sidewalk. Fults meets them, and the trio are quickly escorted into the bank. Into the vault they go, and out comes a bag of coin and currency.
Hamilton is in the tin can with the motor running. There's no stopping until East St. Louis. The cash is counted. The take is $33,000 — the equivalent of about a half-million dollars in today's terms.
Clyde Barrow now had a taste for this bank-robbery business. Soon enough, he would be joined by his girlfriend. A bank robbery in Lawrence, Kansas, in March of 1932 opened the door for the country to meet perhaps its most infamous crime duo: Bonnie and Clyde.
• • •
Never heard that piece of Lawrence history? Most other folks haven't either. Tom Wilson is the owner/operator of Teller's, the restaurant that now occupies the former First National Bank of Lawrence building at 746 Mass. He hadn't heard of the story either, and then retired Kansas University professor Ray Souza came into the restaurant one evening earlier this year.
"He asked me if I knew my restaurant was the spot where Clyde Barrow started robbing banks," Wilson recalls. "At first I was like, 'OK. How many are in your party?'
"But then he just presented all this information to me."
Indeed, there are at least three published books that tell the story of how Barrow got into the bank-robbery business by knocking off the First National Bank of Lawrence in 1932. But all the books rely on the same source: the autobiography of Ralph Fults.
John Neal Phillips wrote Fults' autobiography after interviewing the felon off-and-on for about 13 years. Phillips told the Journal-World this week that Fults clearly remembered the Lawrence job.
"I asked him several times if he could be confusing Lawrence with some other place because I hadn't heard that either, and he always said no," Phillips said. "Ralph was absolutely crystal clear it was Lawrence. Everything else Ralph ever told me about his time with Barrow checked out. Every stinking bit of it."
But Fults' word is all that historians have to go on. There is no evidence from the day that suggests the bank was ever robbed. No police report. No newspaper account.
If the First National Bank of Lawrence was robbed by Clyde Barrow, it appears the bank president, the two employees — and presumably someone who let them out of the vault — vowed to keep it a secret.
• • •
Bill Docking is the president and CEO of the Union State Bank in Arkansas City. In 1932, his great-grandfather, William Docking, was the president of the First National Bank of Lawrence — and likely one of the most powerful men in Lawrence.
"I have not heard a word of this, but that's not to say that it didn't happen," Docking said.
Docking was only 1 year old when his great-grandfather passed away. Bill Docking's grandfather and father never told the story, but they were awfully busy men. His grandfather, George Docking, was the 35th governor of Kansas. His father, Robert Docking, was the 38th governor of the state.
Bill Docking said he was open to the idea that the robbery did happen.
"I would think this Mr. Fults would be a reliable source," Docking said. "You would have to wonder what his motive to lie would be at that point in his life."
Docking said he could see how his great-grandfather would not want news of the bank robbery becoming public. In 1932, the Federal Deposit Insurance Corporation — the FDIC — was not yet created. People's bank deposits were not federally insured against loss. One theory goes that the bank was concerned that if the public learned about the robbery, there might be a run on the bank by nervous depositors.
"That does seem entirely reasonable," Docking said of why the bank may have kept the robbery a secret. "Whether or not it actually happened, I don't know. But it is a great tale."
• • •
Wilson is convinced enough that the robbery happened. He's teamed up with The Eldridge to plan a re-enactment of the event Sept. 30. Mayor Aron Cromwell has agreed to play the bank president. Actors from Theatre Lawrence have been recruited to play the crooks. A 1933 Ford sedan that appeared in the George Clooney movie "O Brother, Where Art Thou" will serve as the getaway car. The Eldridge will host a cocktail party beforehand where re-enactors will mingle with the crowd, and Wilson will have a sound system at Teller's so folks both inside and outside the restaurant can hear all the narration and dialogue.
But Wilson said he thinks the re-enactment could just be the beginning.
"I think it is big history," Wilson said. "We are actually the reason Bonnie and Clyde went on a bank-robbery spree. If it wouldn't have happened here, I'm not sure it would have happened. After this, they live their life full-throttle for the next two years."
Wilson said ideas for future years include special hotel and dinner packages for Bonnie and Clyde buffs, a special night of ballroom dancing on Teller's upper floor, and possibly a movie screening of the Warren Beatty and Faye Dunaway classic "Bonnie and Clyde" at Liberty Hall.
The restaurant already has memorabilia in the main-floor vault that still exists in the building. Wilson also has been trying to make contact with the producers who are remaking "Bonnie and Clyde," which supposedly is going to be filmed in parts of Nebraska.
"Really, the question is what haven't I thought of?" Wilson said. "It could go any number of directions, but I'm pretty excited about it."
Copyright 2018 The Lawrence Journal-World. All rights reserved. This material may not be published, broadcast, rewritten or redistributed. We strive to uphold our values for every story published.