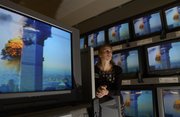 It's 1,133 miles from New York City to Lawrence, so on Sept. 11, 2001, I was a long way away from the scene of the attacks on the World Trade Center. I was with other members of the Journal-World staff, gathered around a small TV in the newsroom, in disbelief at what we were witnessing. How can you document something of such monumental significance from a thousand miles away? As we all tried to return to work and cover this news of the day, I realized my task would be to find photographs that would connect those of us living in Lawrence with the tragedy in New York. Looking back at my images, I found my first one just outside the newsroom at 609 New Hampshire. Suspended above Lawrence, against a clear blue sky, was a large, white, jet plane contrail in the shape of a circle. I was probably aware by then that air traffic had been grounded and planes in flight had been ordered to return to airports. The photo file shows that I took the photo around 9 a.m., about 2 hours after the attacks.
Realizing that most people would be watching the event on TV, I headed to a KU fraternity house, where I found several students watching media coverage of the event. The photo was boring. I was unable to include the TV to provide context to the scene.
I wanted to show the dramatic news images and people watching together in the same scene. So I headed to Sears, where I knew I could find plenty of TVs. There I found a sales staff and a few customers gathered in the television department. Every set displayed the same network broadcast — multiple images of the unfolding tragedy. I'm pretty sure I asked a saleswoman if I could take her photo, but I don't recall much conversation. She was focused on the dramatic images in front of her. I moved to a position where I could photograph her, framed by several TVs. To expose for the bright light of the TV I realized the woman would end up underexposed and dark. To compensate, I laid a flash on the floor, aimed toward her face. With my position and lighting set, I only had to wait for a replay of a compelling image from the event.
Copyright 2018 The Lawrence Journal-World. All rights reserved. This material may not be published, broadcast, rewritten or redistributed. We strive to uphold our values for every story published.