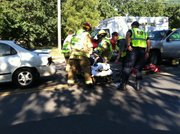 Two people were taken to Lawrence Memorial Hospital Thursday morning after a crash involving two vehicles on Iowa Street near Stratford Road, emergency dispatchers said.
Additional information was unavailable about the apparent rear-end crash that occurred just after 9 a.m. Thursday in the southbound lanes of Iowa Street.
Emergency personnel from several agencies were on the scene.
More information as it becomes available.
Copyright 2018 The Lawrence Journal-World. All rights reserved. This material may not be published, broadcast, rewritten or redistributed. We strive to uphold our values for every story published.