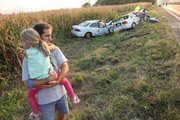 At least two people are injured — one critically — after a serious accident on U.S. Highway 24-40 near the Lawrence Airport.
The accident was reported about 6:30 p.m. near mile marker 395 on the highway, between East 1500 and 1600 roads. A helicopter ambulance was originally called for to transport the patient in critical condition, but was disregarded minutes later. Two people were transported by ambulance to area hospitals.
A witness, Marcia Powers, said she was driving on the highway and swerved to miss a vehicle driving in the wrong lane. Her vehicle ended up in a ditch along the highway, but she was uninjured. However, the oncoming vehicle hit a vehicle traveling behind Powers' in a head-on collision.
Traffic was backed up in both directions Friday evening, with emergency personnel directing motorists through the area. Both vehicles involved in the accident, a white Honda and white Acura passenger vehicle, had come to rest in the ditch on the south side of the road.
Check back to LJWorld.com for updates.
Copyright 2018 The Lawrence Journal-World. All rights reserved. This material may not be published, broadcast, rewritten or redistributed. We strive to uphold our values for every story published.