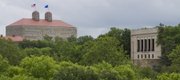 Subscribe to the email edition of Heard on the Hill and we'll deliver you the latest KU news and notes every weekday at noon.
Your daily dose of news, notes and links from around Kansas University.
• It's a video Daily Double edition of Heard on the Hill today, as I took some time to scope out the newly renovated sections of Wescoe Hall.
Both the two main auditoriums on the third floor and the Underground eating area got a facelift this semester, and both seemed to get good reviews from students and staff.
Take a peek up above.
• I reported awhile back on faculty members who were leaving the university.
Well, as it turns out, it's a whole lot easier to find a list of faculty members who are joining the university. In fact, it's right here on the provost's website.
The list includes 53 new hires in all. Business reported the most new hires, with five, a figure that includes its new dean, Neeli Bendapudi.
Social welfare has four new faculty members. It's important to note here, by the way, that not all hires are created equal. A few faculty members are coming on as full professors, all the way down to acting assistant professors.
UPDATE: Laura Green with the provost's office contacted me and wanted to make sure I clarified that all these professors are either tenured or on tenure tracks, and that the "acting" part of the title is reserved for those who have not yet officially finished their doctorates, and the "acting" title is removed once the professor earns his or her Ph.D. It's a good reminder that even though some of these blurbs can get a little short sometimes, I shouldn't neglect to fully explain stuff. Thanks, Laura!
• First Bell reporter extraordinaire Mark Fagan turned Heard on the Hill tipster yesterday and forwarded me this interesting article that features disgruntled law school graduates suing their law schools for what they say is fraudulent advertising.
Alexandra Gomez-Jimenez and others sued New York Law School, claiming they were misled by job placement stats, according to the article.
Now, she's faced with a mounting debt load of $190,000 and no high-paying job.
It's a curious idea, for sure.
""I don't expect to get any money out of this lawsuit," she says. "But I want to change the process. They get so much money from us, but the law school didn't even try to help me or my classmates."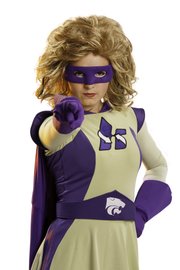 • And, finally, not to bash on poor EcoKat anymore than I need to, but did anyone else notice what some Heard on the Hill commenters noticed yesterday?
Namely, that Kansas State had removed most pictures of EcoKat from its website and took down its first EcoKat video. Here's the sanitized version.
A colleague here called it "the whitewashing of history."
Don't worry, though, I'll keep this photo around in case we ever need it.
• I'll take tips for Heard on the Hill any way you can get them to me — be that by your own creative videos (or uncreative ones, for that matter), by telephone or in person at Heard on the Hill World Headquarters here at Seventh and New Hampshire. The easy way though, is still to email them to me at ahyland@ljworld.com.
Copyright 2018 The Lawrence Journal-World. All rights reserved. This material may not be published, broadcast, rewritten or redistributed. We strive to uphold our values for every story published.