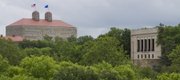 Subscribe to the email edition of Heard on the Hill and we'll deliver you the latest KU news and notes every weekday at noon.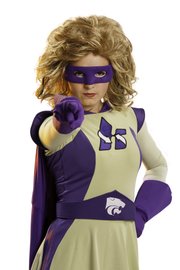 Your daily dose of news, notes and links from around Kansas University.
• Circulating the rounds on Twitter on Tuesday was this rather curious way to drum up support for environmentalism at Kansas State University that really needs to be seen to be believed.
And don't miss the video.
I originally intended to link to a press release announcing the arrival of EcoKat, Kansas State's new environmentally friendly mascot modeled (seriously) after Jillian Michaels from "The Biggest Loser" and Reebok's Office Linebacker Terry Tate.
After getting reamed on Twitter, the university took that press release down. But I read it before they removed it. Let's just say it featured phrases like "crusader of conservation" and "fanatic of fluorescent light bulbs."
Within hours of its debut, EcoKat had already spawned a (presumably) fake Twitter account.
"Don't worry my aerosol hairspray is environmentally friendly," the fake EcoKat reassured us.
My living space has its fair share of compact fluorescent bulbs, but I'm not sure EcoKat is going to encourage me to buy any more. And why do I get the strange feeling that I've just seen the most popular Halloween costume this year for KU students?
• Speaking of Twitter, I spotted a potentially yummy Twitter account called FreeFoodAtKU, which claims to be "your ultimate source for free food on the KU campus."
In what appeared to be its first day of operation, it had already directed users to a free lunch for the first 40 KU Medical Center students at a wellness event.
I didn't ever really notice a need for a clearinghouse for this kind of information, but I'm sure it will attract some attention if it can manage to be "the place" to go for information about free food, which college students do seem to enjoy.
It had already attracted nearly 100 (probably hungry) followers by the late afternoon on Tuesday.
• KU's Panhellenic Association, which oversees 13 sororities on campus, announced that of the 825 women who participated in the recruitment process this year, 553 of them were extended "bids," and joined a formal chapter.
The 825 women participating in the recruitment process was up about 100 from a year ago, organizers said.
This also marks the official end of all that clapping and chanting that marks the beginning of each new school year.
• Would anyone like to volunteer to serve as the Official Heard on the Hill mascot, TipGal? I'll provide the hairspray, all you have to do is walk around and say "TipGal wants you to send your tips to ahyland@ljworld.com!"
Copyright 2018 The Lawrence Journal-World. All rights reserved. This material may not be published, broadcast, rewritten or redistributed. We strive to uphold our values for every story published.