Photo Gallery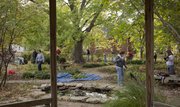 Make A Difference Day 2011
More than 200 Lawrence residents did something special with their Saturday this week — at least in a small way. They helped to make a difference.
The United Way Roger Hill Volunteer Center's annual Make A Difference Day is an event that, this year, included nine small community projects, from winterizing gardens to boxing books to recycling cans.
Shannon Reid, the center's volunteer coordinator, said the event was a good recruiting tool for new community volunteers.
"It's a good opportunity to give people the taste of volunteering," she said. "Most of the time, they end up getting the bug."
Many smaller organizations use Make A Difference Day to finish projects that perhaps don't require a lot of money, but do require a lot of time.
Woodlawn School, 508 Elm St., used the coordinated event to get more help for its semi-annual garden cleanup.
About 30 volunteers from Woodlawn's parents group, Lawrence High School National Honor Society, Kansas University Honors Program, Alternative Breaks and others transformed the outdoor learning center from overgrown with weeds to usable again, all in just about two hours, said Jeanne Fridell, the school's principal. Even the kids pitched in with raking, weeding and mulching.
Mindy Cassin and her family live in Perry, but the children go to Woodlawn. She said that she participated to give back to the school and that the event was also an opportunity for kids to learn about the value of community service.
Marcos Markoulatos is another Woodlawn parent who saw the benefit — for the school, for the kids and especially for the community.
"Work breeds camaraderie," he said.
Copyright 2018 The Lawrence Journal-World. All rights reserved. This material may not be published, broadcast, rewritten or redistributed. We strive to uphold our values for every story published.