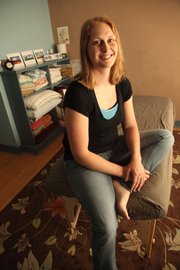 Many people see bodywork as something to seek when they're in pain.
"The real benefits happen when a person receives regular bodywork with a goal of feeling as good as possible," said local Rolfer Risa Kearn.
Kearn learned the importance of good body care while rowing for Kansas University, working as a graduate assistant in KU athletics' strength and conditioning department, and during two years of manual labor with AmeriCorps. "Preventative health care and investing in the body is important because health is our greatest asset," she said.
Despite spending more than 25 hours a week training, rowing and traveling weekends in all weather, Kearn took a full class load at KU's School of Social Welfare and graduated with a bachelor's in social work in 2000 and a bachelor's in human development in 2001. After a year working as an office-based social worker, she felt the need to get outdoors and into more hands-on situations.
She joined AmeriCorps and helped build houses with Habitat for Humanity in Jacksonville, Fla., where she shared a run-down house with 14 other volunteers."As an introverted only child I was really pushed out of my comfort zone and soon became an extrovert," she recalls.
"It was a fantastic year. I grew a lot."
She spent a second year with AmeriCorps in Atlanta with the Department of Parks and Wildlife and other organizations working to improve Atlanta's environment. Based on her previous good experiences with bodywork, and her desire to learn more about the body and health care, Kearn attended an Atlanta massage school in the evenings and on weekends. After certification she returned to Lawrence to work at Kinetikos Bodywork Therapy, 920 Mass. She attended the Rolf Institute in Boulder, Colo., and became a certified Rolfer. She and her husband, Keenan, moved to Dallas for his job, but she returned to Lawrence regularly to see clients.
The couple returned here permanently this year for the birth of their first child. "When I lived in the three big cities, I missed Lawrence's sense of community and knew I always wanted to return to my hometown to be near family, friends and build my practice," she says.Kearn loves what she does at Kinetikos. Every day is different. "The body is fascinating and there will always be something new for me to learn. I'll never be bored and I get to be creative," she explains.
"Rolfing has changed over the years. It shouldn't be painful. Powerful effects are achieved by being gentle and sensitive."
She still offers massage therapy and even has treated animals, but likes to focus on structural integration (Rolfing) and include craniosacral therapy, visceral manipulation and neural mobilization, depending on the person's needs. "Health isn't the absence of pain. Pain is the absence of health," Kearn says.
"I love working one-to-one with people to help them resolve pain and support them in their own healing process so they can feel the best they can be. It's so gratifying to watch a person change and heal over time and know I had a hand in the transformation, literally."
Copyright 2018 The Lawrence Journal-World. All rights reserved. This material may not be published, broadcast, rewritten or redistributed. We strive to uphold our values for every story published.