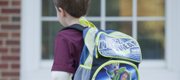 Subscribe to the email edition of First Bell and we'll deliver you the latest local education news and notes every weekday at noon.
Turns out gridlock in the nation's capital helped ease the flow of money for some schools-oriented pedestrian- and bicycle-safety projects in Kansas, including an educational effort in Douglas County.
The Kansas Safe Routes to School Program, administered by the Kansas Department of Transportation, typically distributes about $1.6 million a year to cities, school districts and others statewide to install sidewalks, paint crosswalks, install signs and support a number of educational efforts to:
• Enable and encourage kids to walk or ride bicycles to school, and to do so safely.
• Improve safely and reduce traffic, fuel consumption and air pollution in areas at and near schools.
This year's grants amounted to $3.6 million, or more than twice the usual allotment. Among the recipients is the Douglas County Community Health Improvement Partnership, which will receive $9,366 to plan and support and program for high-schoolers to advise second-graders throughout the county.
The reason behind the boost in financing: The state hadn't provided grants since 2009, as the department awaited word on whether a new federal transportation would secure approval.
Now that such financing is secure, the department resumed the program this year after a one-year hiatus.
"We wanted to get as many projects on the ground as we could," said Becky Pepper, state bicycle and pedestrian coordinator for the department of transportation.
•••
The impasse may be broken between teachers and the Eudora school district, but at least one difference between the two sides looks to endure for another year.
Last week, negotiators from the Eudora Education Association and the school district met with a federal mediator to reach a settlement on compensation and other issues. They agreed on a contract that awaits approval from association members and the Eudora school board, expected by the middle of this month.
Left unresolved: Whether the contract should include a defined amount of planning time for teachers, something association leaders have been pushing for this year and in years past but have been unable to secure.
After mediation, both sides have agreed to form an advisory committee — three association members, and three district administrators — to "study the contract language defining teacher plan time and make a recommendation to the board before negotiations begin for the next contract year," the district says.
•••
I'm hearing that the C-SPAN Campaign 2012 Bus will be stopping later this week in Lawrence to show off the network's educational content for students and teachers: Friday morning at Lawrence High School, then Friday afternoon at Free State High School.
There's talk of the bus visiting the Lawrence Public Library on Saturday, so that others can check it out before the crew hits the road once again.
Once details are ironed out, I'll be sure to share more information about the "campaign" stops.
Copyright 2018 The Lawrence Journal-World. All rights reserved. This material may not be published, broadcast, rewritten or redistributed. We strive to uphold our values for every story published.