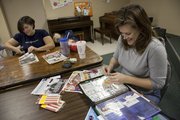 In the last three years, Nada Uber says she has saved more than $35,000 per year using coupons.
On an average grocery trip she saves at least 50 percent, she says, but usually it's closer to 75 percent.
The savings help her to manage her household of nine, which includes her husband and seven children, ranging in age from 5 to 20. And yes, "They all live at home!"
"This level of coupon skills doesn't happen overnight," she notes.
Uber was visiting Lawrence recently from her home in Stanley to share her couponing techniques.
"I try really hard to use coupons for everything," she says. "But there are always things you need right now that you don't have a coupon for. ... and it's also hard to find produce coupons."
Novice couponer Tamara Krug was surprised by the amount of effort involved.
"It's harder than I thought it would be," she says. "It requires a lot of organization. Basically, you have to ask yourself how much time you are willing to put into it, and are the savings you receive worth the time you put into it?"
Krug has been interested in being better with money since she took a class through her church several years ago.
"I started thinking about where all the money went, " she says. "I looked at the amount of food I was throwing out of the refrigerator, and it drove me crazy."
Rebekah Senger also became interested in managing her household finances after hearing a presentation about couponing.
"Her point was that we should try to be responsible," says Senger, who is mother to Audrey, 8, and Eva, 5. "There is a real value to this, and a need to educate people about economics and living in the real world."
Krug and Senger meet regularly with others in their church to talk and clip coupons, but Krug admits that she's "not very good at it." Her favorite strategy is to look at her grocery store's website, see what is on sale and plan meals around that. "Just planning meals can save a lot of money," she says. "There is no clipping, no sorting, and you don't have to carry a bunch of slips with you. You can see the results with very little time and effort."
Those committed to clipping and organizing coupons, however, have discovered the benefits of their work. Emily Hamblin started using coupons two months ago and says she has already saved $1,900.
"I saw 'Extreme Couponing' (a popular show on the cable network TLC), and at first I thought those people were nuts. I couldn't believe it, but I wanted to try it, and it works," she says.
Now that she's couponing regularly, she's hooked.
"It's definitely addictive ... It's amazing the stuff that you can get," she says, joking that all of her friends are going to find nail polish and Excedrin in their Christmas stockings.
Every Sunday Hamblin buys three or four copies of the newspaper and clips everything, even for products that she doesn't regularly purchase.
"I trade with people," she says. "Just because I'm not ready for Centrum Silver doesn't mean that my mom won't want it."
She keeps her manufacturers coupons in a binder and adds them to the store coupons, which she keeps in separate folders, one for each store.
"I like making small trips to individual stores," she says. "My attention span is not long enough to do those big trips."
"The receipts will show you how much you save using coupons," Hamblin says.
"And I've been hovering around 40 percent, but the last time I went to Dillons I saved 56 percent!"
While coupons can save a lot of money for families, they can do something else as well.
"I want people to know that you can do it for others," says Senger, telling about an experience last spring. "One of the local stores was having a 10 for 10 special," she says.
"Ten bottles of juice for $10, and I had a coupon for the juice, which essentially made it free. I had over 200 coupons, so I broke them up and gave them to families I knew who had a lot of kids."The rest of the juice went to her church's youth group, who took it to a local food pantry.
"The food pantries are super low right now," Senger say, "and couponing is a way to help others."
Uber also gets a lot of items that can be donated.
"Our church has an orphanage in Haiti. I was able to send toothpaste, toothbrushes, soap, medicines, blood glucose test monitors, and many other items to them, all because of couponing. One of my local store managers told me he was going to help in Joplin after the tornadoes, and asked if I had anything I could donate. I came back and filled the trunk of his car with baby formula, health care items, personal care items, food and drink, because I stock up when items are free," she says.
Both Hamblin and Senger have found that having a stockpile is helpful, although neither describes her stash as excessive. "Who has the room for all that stuff?" Hamblin asks.
Senger tends to keep a stockpile of paper goods for about six months, and Hamblin says she can feel herself getting ready for winter. "We live south of town and have a driveway from hell." she says. "I can see getting snowed in for a couple of days, so I am going to be ready."
"A stockpile is just smart strategy, especially with a large family," says Uber, whose stockpile includes 30 bottles of KC Masterpiece BBQ sauce, which she got for free, and "more toothpaste you can shake a stick at."
Most serious couponers keep their coupons in a notebook. Senger uses plastic pages like those used by baseball card enthusiasts, and she divides the notebook into sections for things like dairy, detergents and canned goods. "I carry my notebook in the car so its always with me," she says.
Senger likes to think beyond the savings she gets from couponing. "It's a test of integrity, diligence, patience and honesty," she says, and it also lets her teach her kids "the value of a dollar."
Copyright 2018 The Lawrence Journal-World. All rights reserved. This material may not be published, broadcast, rewritten or redistributed. We strive to uphold our values for every story published.