With a national television audience watching, Kansas University graduate Cassie Rupp said she did her best to represent the Jayhawks during her appearances on the second season of CMT's "Sweet Home Alabama."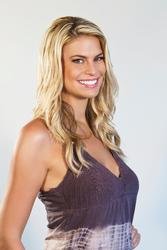 "I said 'Rock Chalk Jayhawk' all the time," Rupp said of her time on the reality show that pits 11 city girls versus 11 country girls in the battle for the heart of one man. And pretty quickly, she earned the nickname "Rock Chalk Cassie."
But the Dighton, Kan., native's attempts to wear Jayhawk gear were often thwarted by production staff, much to Rupp's dismay.
Showing her Jayhawk pride catching the KU men's basketball team play in Maui last week, Rupp talked about her time on the show, which is broadcast at 8 p.m. Fridays on CMT.
She had to keep mum on whether she'd be the final girl picked by former Clemson University football quarterback Tribble Reese.
"We're all keeping secrets," Rupp said of the contractual obligation not to release any of the details of the show before it airs. Rupp has kept in the running for six weeks, but she'll have to keep quiet about the results until the Dec. 9 season finale.
She said the experience has been "the best time" of her life, as she's made friends and learned a lot about the behind-the-scenes work of television, which she hopes to possibly make a career.
Rupp graduated from KU in 2010 with a journalism degree in strategic communications. She moved to California and worked some marketing jobs but has since decided she'd like to work as a broadcast journalist. She's working as a model and freelance host in California.
Her dream job? To come back to Kansas and be the host of the Kansas City cable channel "38 the Spot."
Rupp started shooting episodes of "Sweet Home Alabama" in August and spent five weeks on the show, traveling to exotic date locations and making friends with the other women. But it wasn't all fun and games. After all, it's a competition.
"Some of the girls were extremely competitive," she said. They "made life challenging for the rest of us."
Rupp said she was easily the biggest fan of her college on the show, but she had to go with the flow at times.
On one outing to visit Reese's alma mater, Clemson, Rupp and the girls had to wear Clemson team colors — orange and purple.
"It wasn't like I had to wear all purple or Missouri colors," she said.
Copyright 2018 The Lawrence Journal-World. All rights reserved. This material may not be published, broadcast, rewritten or redistributed. We strive to uphold our values for every story published.