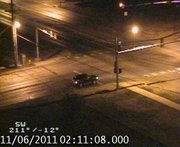 Lawrence police said Friday they were trying to find the driver of a sport-utility vehicle who might have witnessed an injury accident involving two other vehicles Nov. 6 at the intersection of 19th and Iowa streets.
Two teens injured in the crash remain hospitalized.
Sgt. Matt Sarna, a police spokesman, said officers want to speak to the driver of a dark-colored SUV that was headed west on 19th Street at 2:11 a.m. Nov. 6. Police released a surveillance photo of the SUV that was stopped on the east side of the intersection, and Sarna urged anyone with information about the vehicle or the accident to call detectives at 785-830-7430 or Douglas County Crime Stoppers at 785-843-TIPS (8477).
Police have said Michael Robinson Jr., 17, Lawrence, was driving a 1997 Acura and was turning left from 19th Street south onto Iowa Street. The Acura collided with a 2001 Chevrolet Tahoe headed north on Iowa driven by Robert Spielman, 30, Oskaloosa. According to an accident report, Robinson had a flashing red light on 19th Street, and Spielman had a flashing yellow light on Iowa Street.
Police gave impairment tests to both drivers, and the results are pending. The report lists Robinson's disregard for traffic signals and failure to yield as contributing factors, but Sarna said Friday the accident was still under investigation.
Robinson was taken to Overland Park Regional Medical Center, where a nursing supervisor said Friday he was in stable condition. A passenger in his car — John Teters Jr., 18, of Perry — was listed in serious condition Friday at Kansas University Hospital in Kansas City, Kan., a hospital spokesman said.
Copyright 2018 The Lawrence Journal-World. All rights reserved. This material may not be published, broadcast, rewritten or redistributed. We strive to uphold our values for every story published.