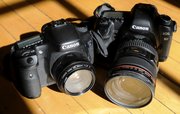 In my continued look at lenses and their various strengths and weaknesses, I'll focus here on what many people refer to as the forgotten lens.
Before the 1990s, purchasing a camera usually meant bringing home a kit that included a single-lens reflex camera body and a 50 mm lens. People often refer to this lens as a standard or normal lens because it closely approximates our eyes' perspective and how we view our environment. Photographs created with a 50 mm lens have a very natural look.
Although they are less expensive to produce, they yield some of the sharpest images of any lens. They are also often the fastest, meaning they have large apertures that enable capturing photographs in very low light. I have a Canon 50 mm fixed focal length lens that cost me $100. It weighs 4.6 ounces, can fit in a pocket and has a blazingly fast, large aperture of F/1.8. I also have a Canon zoom lens that goes from a wide-angle focal length of 24 mm to 105 mm. Yes, I know that the 24-105 lens includes the 50 mm focal length and might appear redundant. But the zoom lens is four times as large, weighs 24 ounces, cost more than $1,000 and has a maximum aperture of only F/4.0.
I can keep taking photographs in lower light with my 50 mm, where I might be out of luck with the 24-105 zoom. Plus, if you were out for a day of photography, which would you rather carry?
Most point-and-shoot photography hobbyists today use cameras with wide-angle to telephoto zoom lenses. They probably pass right by the 50mm focal length. It doesn't have the dramatic effect or arm-spreading perspective that a wide-angle lens has or the powerful reach of a telephoto. But put a fixed focal length lens like a 50 mm on your camera and you immediately eliminate choices, allowing you to concentrate on the natural, unforced perspective of the lens. In the words of longtime National Geographic photographer William Albert Allard, "I think the 50 mm lens is an extremely good discipline lens; it requires you to see in a more refined way, not just tighter."
I know a zoom lens can be convenient but it can also make you lazy as a photographer. Using a 50 mm lens doesn't mean you can't still zoom. Just move your feet to zoom in closer or step back to zoom out. Consider it your new workout plan.
I encourage you to try the 50 mm focal length. If you still use a SLR camera, consider picking up a 50 mm and giving it a shot. For the money and versatility, and their natural view of the world, it's hard to beat this undervalued lens.
Next week: Macro lenses.
Copyright 2018 The Lawrence Journal-World. All rights reserved. This material may not be published, broadcast, rewritten or redistributed. We strive to uphold our values for every story published.