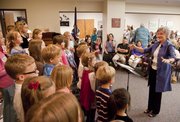 Carnegie Hall is a musical destination — the type of résumé-crowning institution upon which dreams are made. To stand under its lights, in front of an applauding audience, is to have made it.
In April, Janeal Krehbiel will take her last bow with the Lawrence Children's Choir. And she will do so looking out into the audience at Carnegie Hall.
Krehbiel, the choir's co-founder and its first and only artistic director, will lead the choir in a performance April 1 at the famed music hall — her third performance there — before saying goodbye to the choir she nurtured into an international success.
"I feel like I have a lot of teaching left in me, but I just feel like it's time for someone else to take the reins. And I always said, I want to leave this position without someone dragging me off the stage saying, 'You've been here too long, you've done this too long,'" says Krehbiel, 64.
Taking over April 3 will be Carolyn Welch, Krehbiel's longtime assistant artistic director, who is more than flattered to be tasked with continuing creation of someone both she and many others admire.
"I think a lot of people in Lawrence don't realize, but she is quite highly regarded on a national level and to a degree on an international level ... she's incredibly well known and respected among people who do this kind of work," says Welch, who began volunteering with the choir in 1996. "And, certainly, I want to honor that tradition of excellence and continue the mission of the choir going forward."
A choir is born
Before she co-founded the children's choir, Krehbiel was working in public schools as a vocal music teacher and also as choral director for Bethel College's children's choir. As part of her duties, she was attending conventions put on by the American Choral Directors Association, and each time she went, she found herself completely enamored by the professional children's groups.
"Every time I found myself going over to the site of the children's choirs and listening to them and observing directors and I said, 'Oh my word, this is where I need to be. I want to start a professional children's choir,'" she says. "When I found that Lawrence didn't have a professional children's choir, and my sister was already living there, I said, 'Boy, if there's an opening there, I'm going to get a job and I'm going to start one from the ground up.'"
Krehbiel took a job teaching vocal music at South Junior High, and paired with her sister, Marilyn Epp, to get the choir up and running.
"It was definitely her idea," says Epp, who has been the choir's accompanist since the beginning. "Frankly, now that I think of it, I didn't know what I was getting into — I mean I didn't know that it would last forever."
But she isn't totally surprised at the choir's success.
"The most significant thing about Janeal is that she is indefatigable," Epp says, her voice clear of any sisterly hyperbole. "There's nothing that's too much work, nothing that's too much trouble."
And work it was: Only 42 kids — none of whom were cut in auditions — made the first choir. But in five short years, the Lawrence Children's Choir started getting national buzz at a large convention in Dallas.
"That was one of those standing ovations in a middle of the concert situations — an absolutely astonishing musical highlight for the kids involved and for Marilyn and I," Krehbiel says. "That's kind of when things took off."
In 1999, the children were chosen to sing at that same national convention where Krehbiel had first been drawn to professional children's groups.
"That was a spectacular experience, too. By then we were selling CDs and, personally, I was flying all over the United States doing workshops with children's choirs and conducting all states," Krehbiel says. "And in 2009, we were again selected to sing (again) — in fact, we were the opening choir for the 2009 convention of the American Choral Directors Association, and five of the seven pieces we did were premieres. That was extremely exciting and rewarding musically."
Changing lives
For the children of the Lawrence Children's Choir, Krehbiel's vision, work ethic and expectations have been more than just exciting and rewarding — they've been life-changing.
Gabe Lewis-O'Connor says meeting Krehbiel — first as his junior high choral director and later through the Lawrence Children's Choir — influenced his entire career. He had initially studied piano and made singing a secondary interest, but that all changed when he saw what he could accomplish with group music. After spending three years under Krehbiel, he decided to make group vocal performance his professional goal, something he realized when he joined the group Chanticleer after college.
"Her standards are uncompromising and that's exactly what's needed," he says. "I sound like a grandparent here, but I think that's something that's almost impossible to appreciate until later — that there was immediately this sense of accountability and personal responsibility and dedication. But what that afforded was the incredible music-making experience and the feeling that's like no other that you are prepared, that you're sharing music with people that they can hardly believe is coming from kids that age. That only happens because of leadership like Janeal's."
Now that she'll be retired from both the choir and teaching (she left public education in 2005 after 37 years), Krehbiel has tossed around the idea of sharing her knowledge of working with children. She says she'll continue to teach workshops, but that she's also been approached about doing an educational video and has thought of writing a book or two.
Since the choir's board approved her as Krehbiel's replacement, Welch has been scouring music and brainstorming ways the choir can keep funds in its coffers — it's no secret the group has been hit hard by the decision to cut off public funds to the Kansas Arts Commission. Funding from the commission netted about $15,000 for the group in grants and matching funds from the National Endowment for the Arts. Last year, about $13,000 of that money went to scholarships for students who could not pay all or some of their choir tuition.
"It's really tough. Because what we want to be spending our time doing is teaching kids and helping them grow as musicians and offering them opportunities. And instead, we're spending a lot of time trying to figure out if we should have this kind of auction or that kind of auction," Welch says. "For a little grass-roots organization like ours, we don't have a big staff, we don't have a lot of huge donors, we don't have an endowment."
Krehbiel says that while those funding difficulties have been stressful, they didn't factor in her decision to leave. Rather than let that recent painful matter cloud her memories, she'd like to remember her time working with everyone from preschoolers to the senior citizens pushing 100 in the group's affiliated senior choir. She says working with her students of all ages is what she's going to miss most when she exits into the wings at Carnegie Hall.
"One of my all-time favorite comments is from one of my former students, who said, 'You know what I liked best about choir? I liked when you gave us something really hard and we didn't think we could do it, and then we got it,'" Krehbiel says. "When that young male said that to me, I just sort of thought, 'OK, this is why I teach.' To let kids experience the possibilities of going from something very difficult to something that becomes familiar and possible."
Copyright 2018 The Lawrence Journal-World. All rights reserved. This material may not be published, broadcast, rewritten or redistributed. We strive to uphold our values for every story published.