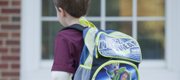 Subscribe to the email edition of First Bell and we'll deliver you the latest local education news and notes every weekday at noon.
The Lawrence school district has scheduled two upcoming meetings for discussions regarding standards-based grading.
The events, "Grading for Learning," are set for 7 p.m. to 8:30 p.m. Nov. 29 at Southwest Middle School, 2511 Inverness; and Nov. 30 at Liberty Memorial Central Middle School, 1400 Mass.
Organizers say the same format will be used and the same information will be shared at both events.
•••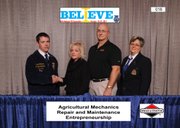 A graduate of Free State High School made the Final Four in Indianapolis.
Stuart Wakeman, who graduated in May, was named as a finalist in the Agricultural Mechanics Repair and Maintenance - Entrepreneurship Proficiency award program in July 2011, earning him a spot among four finalists at the 84th National FFA Convention conducted Oct.19-22 in Indianapolis.
Wakeman didn't win, but he did receive a $500 scholarship for the work he'd accomplished in high school. Proficiency awards are given to FFA members who excel as agricultural entrepreneurs, employees or volunteers while gaining hands-on career experience.
He's certainly been a busy member of Free State's FFA chapter.
From the award announcement: Wakeman "grew up in a family that collects and restores antique tractors. It was only a matter a time until he too became interested. He initially set the goal of being able to fix, replace, restore and reassemble a tractor.
"Once this was mastered, he began restoring on his own. His first antique tractor was a 1964 Farmall 806 Diesel, which won him Reserve Overall Champion at the Kansas State Fair. During his senior year, he restored a 1954 Case SC.
"Wakeman's parents are Rich and Mary and his FFA advisor is Laura Priest."
FFA is the organization formerly known as Future Farmers of America.
Copyright 2018 The Lawrence Journal-World. All rights reserved. This material may not be published, broadcast, rewritten or redistributed. We strive to uphold our values for every story published.