Lawrence-Douglas County Fire Medical responded to a structure fire at Riverside Manufactured Home Community, 420 North St., just after 7 p.m. Sunday.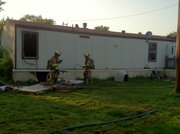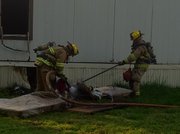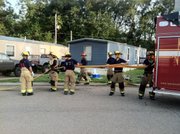 Alicia Langford, who owns the home, lives there with her 4-year-old daughter and her mother, Tonette Langford. Tonette Langford was home when the fire started and got out safely.
"We don't smoke in the house. I was sitting out front having a cigarette, got done and went in, and it looked like there was a haze of smoke, but the sun was coming through the back glass.
"I didn't see where it was coming out of, but I smelled it. I went to the back room and opened the door, and that's when the black smoke hit me and knocked me down," Tonette Langford said.
The cause of the fire is still under investigation according to Fire Medical and neither Alicia nor Tonette Langford know how it started. Fire Medical said the fire, which appeared to be under control by 7:45 p.m., was contained to a back room and its contents. An estimate of damage has also yet to be determined.
"It just sucks to be a single mom and lose everything my daughter owns," Alicia Langford said.
Copyright 2018 The Lawrence Journal-World. All rights reserved. This material may not be published, broadcast, rewritten or redistributed. We strive to uphold our values for every story published.