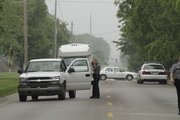 Ward and Haskell
A 9-year-old boy hit by a pickup truck Saturday afternoon along Haskell Avenue at Ward Avenue in eastern Lawrence was treated at a Topeka hospital for a concussion and "some slight road rash" and likely has been released, Lawrence Police Sgt. Kirk Fultz said Sunday morning.
The boy had been flown by helicopter Saturday to Stormont-Vail Hospital in Topeka with what had appeared to be critical injuries after the vehicle-pedestrian accident, according to Lawrence Police Sgt. Ted Bordman. The boy had been listed in stable condition Saturday evening.
Police drove up on the accident at about 2:15 p.m. Saturday, Bordman said. He said the driver of the vehicle was being interviewed by police after the accident.
Fultz said that the driver of the truck had been traveling north when he had come upon a group of children who had been playing tag or some other similar game.
"And the kid ran out into the street," Fultz said.
David Copp, whose family was having a yard sale at a nearby house, said Saturday that he had seen the accident. The boy seemed to be standing on the curb, he said, and walked out into traffic.
"I don't think the (driver) had time to react to what was happening," Copp said.
Lawrence Police are investigating the accident, and Fultz said that he had no information about whether the driver had been issued a citation.
Fultz said that he could not provide any other information about the injured child, other than that the boy was recovering.
Check back to LJWorld.com for more updates as they are available.
Copyright 2018 The Lawrence Journal-World. All rights reserved. This material may not be published, broadcast, rewritten or redistributed. We strive to uphold our values for every story published.