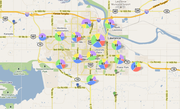 A set of interactive Google maps providing a breakdown of crime in Lawrence in 2011.
A 47-year-old Lawrence woman reported to police that someone burglarized her residence in the 4800 block of West 24th Street taking $3,890 worth of mostly jewelry. The burglary occurred between May 4 and May 13.
Copyright 2018 The Lawrence Journal-World. All rights reserved. This material may not be published, broadcast, rewritten or redistributed. We strive to uphold our values for every story published.