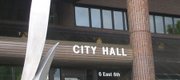 Subscribe to the email edition of Town Talk and we'll deliver you the latest city news and notes every weekday at noon.
News and notes from around town:
• While there has been lots of good news surrounding Kansas University's School of Engineering this week, there's bad news coming out of one of the city's major engineering firms.
EN Engineering — a thriving company formerly known as Wheatland Systems — has 65 engineers at its offices at 2110 Del., and has been looking for a location to expand that high-paid workforce significantly. Local economic development leaders have now learned that expansion won't happen in Lawrence. The company is close to signing a lease for a vacant building in Olathe. That means not only will Lawrence lose out on the 30 or so jobs the company is likely to produce in the coming years, but it also will lose the 65 jobs that already exist today.
The loss is a bitter disappointment for the local economic development community. Chamber, city, county and several private development leaders have been working behind the scenes on options to keep the company. First, they worked on a deal to expand the company's building on Delaware Street, but when that deal appeared not to meet the company's needs, work began on a proposal to construct a new building at East Hills Business Park. Late in the process, however, the company notified local leaders that they were going with the vacant building in Olathe.
Community leaders have long been talking about how the city needs an "economic development home run." Whether this project would have been that home run is a subjective matter, but I think everybody would have viewed it as at least a strong double off the wall. The company largely designs automated systems for industry. Business has been good lately. The company has a particularly strong foothold in the oil and natural gas industries, which are some of the few industries around that still have the ability to write big checks.
From what I've gathered, there is a fairly significant disagreement among some in the private sector and some in the public sector about why Lawrence wasn't able to keep this company. To be honest, I'm still trying to wrap my hands around that and sort through the different pieces of information I've been given from multiple parties. But I get the sense that this is the type of loss that will require some fence-mending. That will be important work to do since the community now has 467 acres of property at the former Farmland Industries site that it hopes to attract companies to in the near future.
What is clear, though, is that this loss will smart for awhile. Tom Kern, president and CEO of the Lawrence Chamber of Commerce, called it "hard to accept," and said he'll look for take-away lessons from the project.
"These are the type of jobs we want to attract to Lawrence and they certainly are the type of jobs we want to keep in Lawrence," Kern said.
• In talking with Mayor Aron Cromwell for an article about the homeless, we also got on the subject of panhandling in downtown. Cromwell told me he's been a little disappointed that more action hasn't come out of previous discussions about how to address panhandling.
There previously had been talk by downtown merchants about printing cards to give to customers reminding them that supporting panhandlers can have some negative consequences. The card was envisioned to list local social service agencies that people could donate money to instead, and it also would list organizations that can provide help to the homeless or people in need.
Cromwell also had suggested that the city explore the idea of putting up parking meter-like devices that basically would be donation machines. The idea is that if downtown pedestrians have some pocket change they want to donate, they could put it in the meter instead of giving it to a panhandler. The money in the meter then would be collected by the city and donated to social service agencies who help the homeless. There also have been ideas of signs downtown reminding folks not to support panhandlers. None of those ideas, though, seem to have taken off.
Cromwell said he's still convinced that a public education campaign is a vital part of addressing the concerns that have been raised about panhandlers and transients in downtown. There's a public listening session about downtown issues set for 5:30 p.m. today (Thursday) at City Hall. We'll see if the issue comes up.
• Another issue the mayor has brought up is how Lawrence can become a more attractive place for seniors to retire. It looks like he will get some help in promoting that issue. City Commissioner Hugh Carter is proposing that the city create a "Senior Preparedness Committee." The group would look at the best practices of established retirement destinations. The group then would try to put together a 10-year plan for Lawrence to become a significant player — at least in the Midwest — for retirees. The City Commission will consider creating the new group at a future meeting.
Copyright 2018 The Lawrence Journal-World. All rights reserved. This material may not be published, broadcast, rewritten or redistributed. We strive to uphold our values for every story published.