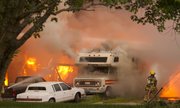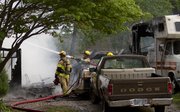 Investigators of a fire that destroyed a North Lawrence home Wednesday morning have classified the cause of the fire as undetermined, Lawrence Douglas County Fire and Medical Chief Mark Bradford said Thursday morning.
He had said fire investigators did not suspect anything suspicious in the cause of the fire that burned a house at 785 Maple St. and two recreational vehicles on the property. It is not uncommon for fire investigators to be unable to pinpoint a specific cause for a fire that causes heavy damage.
The 6 a.m. fire displaced three Lawrence residents, who were able to escape the blaze when they smelled smoke. Two dachshund dogs perished in the fire. Family members said Wednesday one of the residents, Toni Flint, 18, suffered minor facial injuries while trying to leave the house and burns to her feet, but no other injuries to residents or firefighters occurred.
Fire crews were able to get the blaze under control in about 30 minutes. The fire caused an estimated $77,000 worth of damage to the house, other contents and vehicles. The house is expected to be a total loss, Bradford said.
The Douglas County Chapter of the American Red Cross provided money for food and clothing for the residents, who said they would be able to stay with friends and family members.
Copyright 2018 The Lawrence Journal-World. All rights reserved. This material may not be published, broadcast, rewritten or redistributed. We strive to uphold our values for every story published.