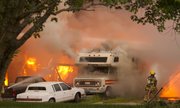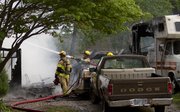 Maple Street Structure Fire
Toni Marie Flint and her boyfriend, Corey Lee Warner, awoke about 6 a.m. Wednesday to Flint's stepmother yelling "Fire! Fire!"
Flint, 18, ran up the basement stairs in their North Lawrence home, where she saw heavy black smoke. She ran back down to the basement, screaming at Warner to get up.
Even though Flint had struck her head while returning to the basement, all three residents escaped the burning house at 785 Maple St.
"We got out of the house, pulled out the two cars and had called 911. By that time, the house started collapsing," said Warner, 20, as he watched firefighters work on hot spots in the heavily damage house.
Chief Mark Bradford, of Lawrence Douglas County Fire and Medical, said all three residents had escaped the home before crews arrived. Due to heavy flames, firefighters immediately went into a defensive mode before extinguishing it within 30 minutes. The house and a camper adjacent to the house sustained heavy damage, said Capt. Pat Karlin, the fire and medical acting shift commander.
Flint's stepmother, Debbie Flint, who frequently uses oxygen due to a medical condition, was evaluated by medics and received oxygen treatment at the scene. Toni Marie Flint, suffered a facial injury and slight burns on her feet, Warner said.
"What are we going to do?" Warner said. "At least we all made it. At least most of the dogs made it."
Warner said two the family's 11 dachshund dogs were not yet accounted for, and Bradford said two dogs perished in the fire.
Bradford said Wednesday afternoon that investigators were still looking into the cause of the fire but that they didn't expect it to be anything suspicious. He said the department estimated the fire caused $77,000 in damage to the house, contents and vehicles on the property.
The Douglas County chapter of the American Red Cross provided an allowance for food and clothing to the three residents, who said they would be able to stay with family and friends, said Kristy Wempe-Bellinger, the chapter's health and safety director.
According to Douglas County records, Edward Flint Jr. is listed as the owner.
Copyright 2018 The Lawrence Journal-World. All rights reserved. This material may not be published, broadcast, rewritten or redistributed. We strive to uphold our values for every story published.