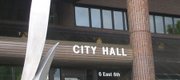 Subscribe to the email edition of Town Talk and we'll deliver you the latest city news and notes every weekday at noon.
News and notes from around town:
• Despite what the thermometer says, summer must be just around the corner because it is budget time at Lawrence City Hall. Commissioners will dive into budget season with a study session on Tuesday. Each summer, the major task of the City Commission is to set a budget for the next year. Here are a few things to keep in mind as the city sets its budget for 2012.
Your property tax rate will go up. Voters last year approved a 1.5-mill increase to fund an $18 million expansion of the Lawrence Public Library. In addition, the city is expected to increase the operating budget of the library. Ultimately, expect about a 2-mill increase for the library. That will equate to about an extra $46 per year in property taxes for a $200,000 home.
New Police Chief Tarik Khatib is requesting a lot of new funding for the department. Khatib is seeking $1.2 million in new funding to add 10 police officers, one detective and three sergeants to the staff. An increase of $1.2 million in funding would amount to an increase of 1.4 mills to the property tax rate. That would amount to about a $32 per year increase in taxes for a $200,000 home.
Something has to give on water and sewer rates. The idea of people conserving water creates a lot of good feelings from an environmental standpoint. But from a financial standpoint, it sucks at the moment. The city now sells less water than it did in the late 1990s. That has not been good for the bottom line. Based on the first four months of the year, the city is projecting that water and sewer revenues will come in $1.9 million short of budget in 2011. As a result, water and sewer expenses are expected to exceed revenues by about $830,000. The city has a fund balance for water and sewer that can easily cover that shortfall. (The fund has about $14 million in it.) But utility leaders get worried anytime rates don't cover the cost of services. For 2011, the City Commission went against staff's advice and did not raise water and sewer rates. Expect staff to recommend a rate increase for 2012. The question will be how much. I will soon be asking what type of rate increase they have in mind. In the past, water and sewer rates have gotten discussed late in the budget process, which means they've gotten discussed less than some other parts of the budget that arguably don't have as big of a monthly impact on residents. Just to scare you, here's some information — according to Lawrence leaders — about rate increases being considered in other communities. Olathe is expected to ask for 5-percent increase in water rates and a 9-percent increase in sewer rates. Manhattan recently increased sewer rates by 20 percent and some water rates by 6 percent.
Breaker, breaker, good buddy, our radios are soon to be broken, broken. In order to comply with new FCC regulations, the city needs to replace all of its radios used by the police, fire and public works departments by Jan. 1, 2013. That's no small undertaking. The city estimates it will cost $1.98 million to replace all the radios. I'm not entirely sure what happens if the city doesn't replace the radios. Will they stop working? Will the FCC slap the city on the hand? We'll figure that out. Plus, this is a good time to remember with all budget issues that the city isn't broke. It has a sizable general fund balance, which is kind of like a savings account. In recent years, the city has been loathe to dip into it, but we'll see if that changes in 2012. At the end of this year, the city expects the fund balance account to stand at about $12 million.
Don't get sick, city employees. It looks like major changes are on the way to the city's health insurance program. City employees currently don't pay any premiums for their health insurance. (They do pay premiums if they want to cover a spouse or children.) City Manager David Corliss wants a serious discussion about implementing an $11-per-pay-period contribution from city employees. That may not be the biggest change city employees have to worry about. The city's budget-crunchers also are recommending that the city move away from its traditional PPO type of system and go to a what is called a High Deductible Plan. That will mean higher deductibles and an increase in out-of-pocket expenses paid by city employees. At the end of the day, however, city employees would still be able to cover themselves and their family for a bi-weekly premium of $124. Without the changes, the city's health care costs are expected to increase by 10 percent — or about $1.2 million. Corliss has set a budget goal of no new city money being directed toward health care expenses in 2012.
Find a comfortable seat at the negotiating table. Negotiations with the city's police and fire unions may take awhile. (See item No. 5.) In addition, though, the city last year implemented a new overtime policy that generally cuts back on the amount of overtime the city pays. The city wasn't able to apply that new policy to police and fire unions because they were under contract. I would expect that to be a significant topic of discussion during these negotiations. Already, the City Commission has had two lengthy executive sessions to discuss fire and medical negotiations.
And finally, just something for all of us to look forward to. The city is projecting that gasoline costs will be $4.10 per gallon in 2012. Of course, if the city actually knew the future of gasoline prices, it would not have its current budget problems. It would have a big bank account on Wall Street.
Copyright 2018 The Lawrence Journal-World. All rights reserved. This material may not be published, broadcast, rewritten or redistributed. We strive to uphold our values for every story published.