-->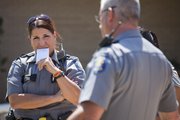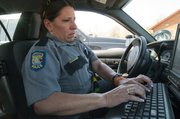 In the three months since he was tapped to lead the Lawrence Police Department, chief Tarik Khatib has often mentioned one statistic.
In 1999 the department had 79 patrol positions — the same number it is allotted today. The other point he mentions is that Lawrence's crime rate is higher than that in Overland Park, Olathe and Lenexa in Johnson County and university communities, such as Norman, Okla., and Boulder, Colo.
Khatib said those numbers are keys in a recent request to city leaders for $1.2 million to add 10 patrol officers, a detective and three sergeants. In a memo, Khatib highlighted targeting certain crimes such as fraud and property crimes and repeat offenders who have multiple arrest warrants. A $1.2 million increase in funding — to the department's approximately $14 million budget — would amount to an increase of 1.4 mills to the city's property tax rate, or $32 per year more annually for a $200,000 home.
"The bottom line is, I would like to identify a long-term plan for law enforcement in the community," Khatib said.
The city in the last decade has added certain officers positions through grants and other means, like school and neighborhood resource officers without beefing up regular patrol numbers, city officials said.
Lawrence Mayor Aron Cromwell said commissioners have also asked the department to do more in recent years without adding positions — like a request for officers be assigned to foot patrols downtown. Cromwell said that seems to have paid off for downtown safety, but he acknowledged those officers could also be doing something else.
"If we were to come up with additional resources for any department, I would at this particular point be most interested in looking at putting those toward the police," Cromwell said.
Comparisons
The new chief, who has spent 19 years as a Lawrence officer, said the department generally gets high marks for its interactions with the public, including 80 percent of respondents to a recent city survey indicating they were satisfied with police services.
But he said that Lawrence officers tend to be busier than ones in comparable cities and that the crime rate is still a major concern.
"We're not being very effective at reducing crime, but we are good at interacting with people and talking to them," Khatib said.
By plugging the department's numbers into a 2009 Benchmark City Survey, all Lawrence officers — including detectives — handled about 400 resident-initiated calls, which was above the average of 337 calls per officer among the 26 other cities that participated. Olathe averaged 264 calls per officer, and 250 for Overland Park. Boulder had a higher average than Lawrence at 455, and Norman was lower with 368.
The 2010 Benchmark City Survey, which will include Lawrence, has not been made public yet. In 2010 Lawrence police officers handled 115,000 total calls, which includes all requests from the public and officer-initiated calls.
Department leaders have said they are playing catch-up with staffing patrol due to attrition and other factors because it takes months to get new officers through training to where they can work on the streets on their own. Right now six patrol officers, who were hired in January, are partnered with an experienced officer in the field, and two others are on temporary military leave. The department is also recruiting to hire a new class this summer.
Workload
Khatib said in a university community officers are kept busy often at all hours, particularly on nights and weekends, for noise complaints and other calls. He said officers helped with 51 special events last year, like traffic control for Kansas University football and basketball games, and they respond to medical calls and traffic accidents on private property, like in parking lots, something that's not necessarily done in every city.
Khatib often talks about crime prevention through community policing by allowing officers to return to the old "beat cop" approach to interact with residents as a way to exchange information in conversation instead of the duress of a service call.
"But we're not really staffed appropriately to get ahead of crime. What we need to do is make a choice as to whether we're going to start to do some of that stuff," he said. "Or perhaps take a look at what are some things we should probably stop doing?"
Cromwell said the department generally does a good job at responding and focusing on major and violent crimes, but he said with more officers the department could likely address solving other cases, like non-violent crimes.
"It's just a matter that at a point here we're going to have to address some of those equipment needs as well as officers," Cromwell said. "One of the things we're lacking is in the area of property crimes."
City commissioners have a budget and goal-setting study session at 3 p.m. Tuesday at city hall.
"I'm pleased with what our police department has been able to do with the resources that they have, but I don't know that that's sustainable," Cromwell said. "And I do think that we need to take a real hard look at putting some additional resources into their hands."
Copyright 2018 The Lawrence Journal-World. All rights reserved. This material may not be published, broadcast, rewritten or redistributed. We strive to uphold our values for every story published.