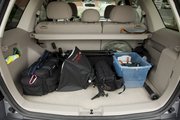 You're probably wondering what is a piece about a car doing in a column about photography. Well, for staff photographers at the Journal-World, our cars are a vital part of having a job. You might even say it is the biggest piece of equipment in our sizable arsenal. I like to tell people it is my camera bag on wheels.
The car for a photographer serves many purposes. In addition to carrying all the stuff we need, it gets us from place to place in a hurry (always prudent to the posted speed limit). It gets us to the closest position for the best shot possible and provides us a stable base to even shoot atop, if necessary. Countless times I have stood in the bed or on the roof of the truck to take a picture.
I was never one to name any of my cars. I read somewhere that photographer Ansel Adams named his car Hercules I that was used for many of his famous landscape shots — he even had a roof platform installed to shoot from. When it was time to replace his car, he named the new one Hercules II.
So we have to carry all kinds of things ranging from cameras, lenses, lights and light stands, umbrellas, soft boxes, tripods, bags, pouches and other miscellaneous photo gear. Then we also have to be prepared for the changing weather. Extra fleece, snow boots, snow pants, gloves and hats in winter; rain gear for spring. Towels to dry the equipment off. Plus a laptop, chargers, phone and notebooks with an assortment of pens. And a travel-size bottle of ibuprofen.
Photographers need their cars. Reporters can do a lot of their writing from phone interviews, but photographers need to be at the place for the story. It is a visual necessity.
We spend a lot of time in our vehicles. And the vehicle spends a lot of time with us. As a photo team, car and driver have covered many stories. Been to many places. Down many dusty roads together.
Which brings me to this week: I replaced my Ford pickup after having it for over seven years. It was time. The miles were getting up there, and I needed more space for all my gear.
Shopping around, I settled on a used SUV. Perfect color for a photographer — 18 percent gray. This would allow me to make creative use of the space in back for storage of my equipment. Lots of space for lots of gear. With cup holder and power windows, I'm good to go. I'm not sure I'll be standing on the roof of this one. But if the photo calls for it, I'm up there.
I had to clear out all my photo gear in the truck before trading it in. As I separated everything, I came up with new ideas on how the new car should be packed. After it was all out, I had my wife take my picture with the truck one last time.
As my final journey with my truck, I drove to the dealership in Leavenworth. Crossing the bridge over the Kaw River on Kansas 7 near Bonner Springs made me think of all the times I took the same trip when I was working for The Bonner Springs Chieftain, The Basehor Sentinel and The Shawnee Dispatch. I bought the truck used about the time I starting working there.
I drove with the windows open. Had the radio off. The inside cleared of all equipment. It was empty inside, like the first day I drove it after I bought it. The drive, the wind and the empty space gave me time to reflect.
On this last ride, I almost felt the truck pulling me to those small communities again. Like walking with an old dog, it wants to pull you in an opposite direction. But you can't go back. You drive forward. It's time to change.
That old truck had served me well.
So the truck will be traded in and probably will be sold at auction. It might end up in some small used car lot somewhere. Maybe it will become a farm truck.
I think the songwriter Neil Young understood it when he wrote these lines, "With your chrome heart shining in the sun, long may you run."
Copyright 2018 The Lawrence Journal-World. All rights reserved. This material may not be published, broadcast, rewritten or redistributed. We strive to uphold our values for every story published.