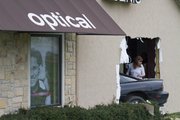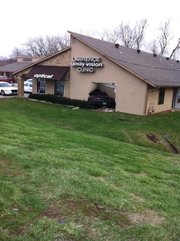 No one was injured, but two customers at a Lawrence optometry clinic were knocked across the room Tuesday evening after a car crashed into the side of the building near Sixth Street and Lawrence Avenue.
"We were very, very lucky on this one," said Lawrence police Sgt. Randy Roberts.
He said a 27-year-old Lawrence man lost control of his vehicle at 5 p.m. while headed east on Sixth Street and drove his car into a wall of the Lawrence Family Vision Clinic, 3111 W. Sixth St. The building is at least 30 feet from the road, Roberts estimated.
The car crashed through a wall into a fitting room where customers try on glasses, and the force of the impact knocked two customers inside several feet across the room, the sergeant said. The car was nearly completely inside the building before it stopped.
Initially, dispatchers reported two people — one inside the vehicle and one inside the business — suffered minor injuries. However, Roberts said the customers were shaken up but not injured after they were examined at the scene. The driver was also not injured, Roberts said.
The driver was arrested for operating under the influence and reckless driving and booked into Douglas County Jail at 5:39 p.m.
Copyright 2018 The Lawrence Journal-World. All rights reserved. This material may not be published, broadcast, rewritten or redistributed. We strive to uphold our values for every story published.