On the street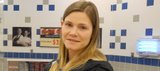 Yeah, the alto saxophone.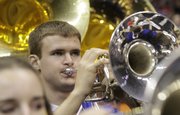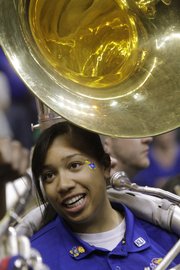 San Antonio — Back at the Alamodome for the first time since 2008, it didn't take long for Kansas University pep band members Sara Minor and Shelton Heilman to relive the moment that gave the Jayhawks their first national title since 1988.
"With two minutes left, we were down by nine, and I remember thinking, 'Well, it's been a great ride. Our freshman year we got to the championship game,'" Heilman said. "And then they mounted that comeback and Mario (Chalmers) hit that shot, probably 30 feet in front of us, and we just couldn't contain ourselves. We were going crazy. It was really, really difficult to play after that. It was unbelievable."
KU seniors and Free State High grads, Heilman and Minor are two of four members of this year's basketball band who were at the Alamodome that April night in 2008 when Kansas was crowned king.
Brad Gilbert and August Soto also were playing in '08, and, this week, all four have doubled as tour guides for the rest of their KU bandmates.
"We were even pointing the spot out to people, telling other people in the band where it was and what our view was. It was very surreal," said Minor, rehashing the details remembering the shot that's become known as Mario's Miracle. "Experiencing San Antonio all over again, it's very weird, seeing the same places we went on the Riverwalk. The same bar that was the KU bar during freshman year is the KU bar this year. It's crazy how similar it is, yet different, with a different team."
Thanks to a 20-point dismantling of Richmond on Friday night, this year's team sits just one win away from a return trip to the Final Four next week in Houston. The Jayhawks will battle VCU at 1:20 today for the right to move on.
Heilman and Minor have been playing in the same band for 10 years. The two former Firebirds started together in seventh grade at West Junior High and have stuck by each other for the last decade. Naturally, Minor, a tuba player, and Heilman, who mans the mellophone, are hoping for their dream ride to continue.
"When we were in seventh grade, KU basketball was like the biggest deal ever," Heilman said. "I don't think we ever thought we'd end up playing at a national championship game or continuing on for all these years through so many KU victories. It's just been great."
So great, in fact, that Heilman made sure to point out one more key fact that relates to his favorite player on this year's team.
"Tyrel Reed is the all-time winningest player in KU basketball history, which means that our class is the all-time winningest class in KU basketball history," Heilman said. "With the amount of tradition around KU basketball, that's really special, and I'll always remember that. Sara and I left as the winningest band members ever."
Though they've already played their final game in Allen Fieldhouse, Minor, Heilman and the rest of the band have a maximum of three games remaining before plugging up their instruments for good. Before that moment arrives, they hope to be playing the KU fight song on the first Monday in April in Houston.
"Each game I'm nervous, and it's definitely nervous watching our team and hoping they keep going," Minor said. "But at this point, we've had so many good experiences, that even if it were to end tonight, the experiences I've had have been overwhelming, and I'd be fine walking away knowing what I know and seeing what I've seen."
Copyright 2013 The Lawrence Journal-World. All rights reserved. This material may not be published, broadcast, rewritten or redistributed. We strive to uphold our values for every story published.