Some education-oriented items from around the area, and beyond: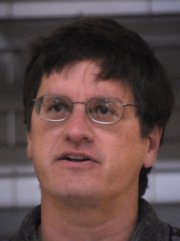 Today we share a little bit more information from Mr. Google, Lawrence's own Brian McClendon, a vice president at the company that last year reported $29.3 billion in revenue.
This time it's advice for students sitting in the same proverbial seats that he did as a student at Hillcrest, West Junior High and Lawrence High schools — or anywhere else within the Lawrence school district, for that matter.
"They should obviously be working on science, math and computer science in particular," McClendon said.
McClendon is co-founder of Google Earth and works as vice president for Google Earth, Google Maps, engineering and product at Google Inc.
Did we mention that Google Inc. — a search engine created by two Stanford graduate students in 1998, incorporated later that year and then taken public in 2004 — reported $29.3 billion in revenue last year?
Computer science sounds like a fine course of study...
•••
More from McClendon:
As he and I talked Wednesday afternoon about Google's launch of new and updated imagery for Lawrence and other communities through Google Earth and Google Maps, we spent quite a bit of time discussing the new virtual 3D model of Allen Fieldhouse that the company put together, and how it'll include interior views by the end of next week.
As a longtime Jayhawks fan and proud Kansas University graduate — electrical engineering, 1986 — McClendon is looking forward to tonight's game against Richmond. He likes KU's chances, having previously asserted that KU would be going to the Final Four.
"I think they're incredible," said McClendon, who's seen four KU games in person this year: two in Las Vegas, then another against California in Berkeley, Calif., and a fourth against Kansas State at Allen Fieldhouse. "If Marcus and Markieff (Morris) play the same game at the same time, we can't lose."
•••
Officials in Eudora public schools are continuing their plans to have longer school days in exchange for a shorter school calendar, all to save money.
Earlier this month, the district approved its academic calendar for 2011-12, a schedule similar to the one adopted for this year that cut the number of instruction days by 10.
By scheduling fewer days in school, the district was able to save $100,000 — a plan that will continue for the coming school year.
"Keeping the shortened calendar with fewer instructional days is a way that we can continue to conserve our limited financial resources," said Don Grosdidier, district superintendent. "But in no way would I argue that cutting instructional days can have a positive effect on student learning. It's simply one strategy — and one that doesn't include cutting staff positions — to help us balance the budget."
The Eudora calendar also includes two planned snow days: March 15 and April 9.
Copyright 2018 The Lawrence Journal-World. All rights reserved. This material may not be published, broadcast, rewritten or redistributed. We strive to uphold our values for every story published.