Some education-oriented items from around the area, and beyond: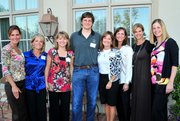 Brian McClendon — co-founder of Google Earth and current vice president for Google Earth, Google maps, engineering and product at Google Inc. — admits retaining heartfelt feelings for his various alma maters in the Lawrence school district: Hillcrest School, West Junior High School and Lawrence High School.
He's not sold, however, on the whole idea of what he described as the "rejiggering" the district's junior highs into middle schools beginning next year.
Specifically, he's not a big fan of changing the schools' names.
" 'Middle school' generally is not impactful," McClendon said Wednesday afternoon, after we'd discussed Google's planned release of updated imagery for Google Earth and through Google Maps, and ongoing work on a virtual Allen Fieldhouse. "You don't want to go to middle school; you want to go to junior high school. You want to be closer to high school."
I advised McClendon that he could still have a say in the process. He's a bit of a big thing in the district, you know, having delivered the keynote speech during the 2008 Lawrence Community Education Breakfast, which attracted 500 people and raised a then-record $49,000 for the Lawrence Schools Foundation.
The Lawrence school board still plans to take up the issue of naming the soon-to-be-middle schools sometime in the coming weeks.
"I don't think Google's ready to buy school naming rights," McClendon said.
And just think: I didn't even ask him about the district's budget challenges. ...
•••
The Douglas County Child Development Association is organizing a collection of open houses to let parents get a preview of potential sites and operations for childcare.
With good reason.
"When you're decide where to send your children, most people are looking, No. 1, at the finances, not necessarily the quality," said Hannah Sheridan-Duque, the association's scholarship program coordinator. "They don't put as much forethought into it as where they'll be sending them to college."
And that's not such a good idea, she said, especially considering that such services for infants can cost $800 to $1,000 a month.
"In the first five years, you're spending more for child care than you would for tuition for four years of college," Sheridan-Duque said. "That's why it's important for parents to get educated about where they're sending their children."
And that's why the association is organizing the Douglas County Early Education Site Tour, set for 9 a.m. to noon April 9 beginning at the association office, 935 Iowa, Suite 7. The office is in the Hillcrest Shopping Center, east of the Royal Crest Lanes bowling alley.
At least a dozen childcare centers and homes will be conducting open houses as part of the self-guided tour. The association will provide parents with maps that include information and locations about each operator.
Parents seeking more information and operators interested in participating may contact the association at 842-9679, or by emailing Sheridan-Duque at hannah@dccda.org
•••
A bill that would allow Iowa school districts to require school uniforms appears to lack enough support in the state senate to move forward, despite having been approved 89-7 by the Iowa House.
That's the word from Iowa state Sen. Herman Quirmbach, chairman of the Senate Education Committee. According to an Associated Press article, Quirmbach says there is little chance the bill would meet an April 1 legislative deadline.
According to the story, the "vast majority of feedback" he's received on the bill has been negative. He says schools already could develop a voluntary standard of dress under current state law.
The committee has more important issues to work on, Quirmbach added Wednesday, such as school funding.
Copyright 2018 The Lawrence Journal-World. All rights reserved. This material may not be published, broadcast, rewritten or redistributed. We strive to uphold our values for every story published.