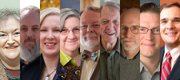 Stay informed on the race for Lawrence school board in our special elections section. Read stories, participate in live chats, watch candidate videos, vote in our straw poll and use the candidate selector to help you find out which candidates get your vote on April 5.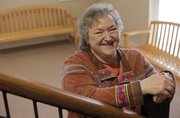 Marlene Merrill is nearly four years into studying, proposing and determining ways to steer the Lawrence school district through curriculum implementations, school reconfigurations, bond issue expenditures, budget-cutting moves and school-closing deliberations.
And she wants to go back for more.
"I am volunteering my expertise," said Merrill, a member of the Lawrence school board since 2007. "I know a lot about education; I think I provide that aspect to board decisions. I want Lawrence schools to be the very best schools we can have and, in many ways, Lawrence schools are excellent.
"But part of the reason I'm running is to complete the work we've started."
Merrill is a retired teacher, school psychologist, special education director and director of assessments and grants. She is among nine people campaigning for four available seats on the board. The election is April 5.
Issues
While three of her board colleagues will step aside voluntarily when their terms expire in June, Merrill is asking voters for an extension. And she knows there are plenty of issues to grab their attention.
Among the plans Merrill has for a second term:
Implement a plan for elementary education. "Whether that means consolidating buildings, building new buildings or designating some buildings for special programs, we need to have movement in that direction," she said. "We've gotten some excellent groundwork from the (Lawrence Elementary School Facility Vision) Task Force. My goal is to complete that picture." Task force members met for eight months before recommending that the board close Wakarusa Valley School next year and then pursue consolidating six schools — Cordley, Hillcrest, Kennedy, New York, Pinckney and Sunset Hill — into three or four schools within three to five years, using financing sought from a yet-to-be-determined bond issue.
Implement full-day kindergarten in all elementary schools. Such programming now is available in eight of the district's 15 elementary schools. "I want to see it in every building, for all of our kids," she said. "The research is very clear: It substantially aids a student's growth, increases their vocabulary, increases their interest in learning and makes them successful learners. It helps them. It's money well spent."
Find money for such initiatives. Merrill understands that the district faces starting the next academic year with $3 million less than it had to start 2010-11. That said, she is willing to look into closing or consolidating schools, or increasing class sizes, to free up money for high-priority needs. "We've cut counseling," she said. "We've cut our prevention workers, the WRAP program, all these things are gone. We cut nurses a little bit last year. We cut all the learning coaches. … We cut para(professional)s last year, too. There are really not many places that are left in the budget that we can pull money from, and still be able to successfully educate kids. "So that only leaves a couple of places: closing schools, or increasing the number of students in every classroom — or both. But if we tackle that wisely, and close the schools that are part of a comprehensive plan, I think we will provide some opportunities."
Continue programs and initiatives to "close the achievement gap" in schools. Minority students and other "at-risk" students who tend to lag behind others in terms of academic achievement are being helped by a variety of efforts, she said, including the Courageous Conversations program that helps address race issues in schools. That program needs to continue, and the board needs to work on ways to boost professional development for teachers to help focus on closing the gap.
Propose a bond issue. All elementary schools need physical upgrades and other renovations, she said, and such a program needs to be developed along with a plan to consolidate schools so that efficiency is improved while enhancing programming. The plan should be built using the task force's foundation, she said, and formed with guidance from principals, teachers, parents and others focused on the welfare of students. "We need to do it from the ground up, and do it by generating the common interest to consolidate," Merrill said. "I would hope we can be persuasive: It's easier to give up the old if you feel positive about what the future would be. "I'm not saying it would be easy, but it would be a mistake to just make an autocratic decision."
Background
Merrill earned a bachelor's degree in education in 1962 from Purdue University, after graduating third in her class of 340 at Bishop Noll High School in Hammond, Ind.
She earned two master's degrees — in American history, from Purdue, and in school psychology, from Illinois State University — before receiving a doctorate in school psychology, with an emphasis in school administration, from Kansas University in 1981.
She spent 13 years as a school psychologist and about 20 years as an administrator, including a stint as director for assessments and grants in the Lawrence district. She retired in 2008, after performing educational research for the Kansas City, Kan., school district.
Copyright 2018 The Lawrence Journal-World. All rights reserved. This material may not be published, broadcast, rewritten or redistributed. We strive to uphold our values for every story published.