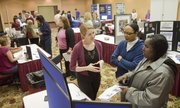 Though the economy is beginning to show signs of recovery, the road to employment can still be rough, as those attending a career fair at Lawrence's Holiday Inn on Wednesday can attest.
Fifteen companies from around the region attended, including Brandon Woods at Alvamar, Lawrence Memorial Hospital and Pinnacle Career Institute.
The event was sponsored by the Journal-World.
Most of those companies were looking to hire people for several full-time positions.
"We're always looking for good people to add to our nursing staff," said Teresa Prochaska, Brandon Woods' human resources director.
The retirement community was also looking for workers in housekeeping, food and beverage service, and various other roles.
Prochaska said participating in these sorts of job fairs were beneficial because of the mix of people that they draw.
"Seeing other employers is always good, too," she said.
The economy is showing some promising signs, said Keri Rodriquez, an employment consultant at Cottonwood Inc. She was at the career fair working with clients. She works with people who have barriers to employment such as disabilities and limited work experience.
Rodriquez has been seeing more of her clients land interviews.
"In the last couple of weeks, things have been opening up a bit," Rodriquez said. "Still, every job seems like it has hundreds of applicants."
For many who are still unemployed, however, such as 60-year-old Norman Colwell of Ottawa, the recovery seems like it's taking a long time. He's been out of work since July.
"It's just no end in sight, really," he said of the country's economy. "I've got several upcoming interviews, so we'll see how it works out."
Copyright 2018 The Lawrence Journal-World. All rights reserved. This material may not be published, broadcast, rewritten or redistributed. We strive to uphold our values for every story published.