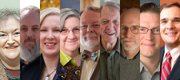 Stay informed on the race for Lawrence school board in our special elections section. Read stories, participate in live chats, watch candidate videos, vote in our straw poll and use the candidate selector to help you find out which candidates get your vote on April 5.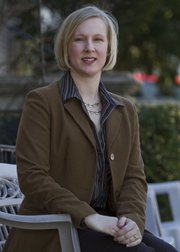 Shannon Kimball spent eight months immersed in the reality of one of the Lawrence school district's most pressing issues: how to balance the needs of its 15 elementary schools against a dwindling pool of resources, all while upholding the community's expectations and vision for valuable and effective education.
In the end, the Lawrence Elementary School Facility Vision Task Force recommended closing one school next year and pursuing consolidation from among a list of a half dozen others within three to five years.
Kimball, an attorney who put her career on hold to stay at home with two young kids, not only served on the committee but also embraces its findings as she campaigns for a seat on the Lawrence school board.
"I really feel strongly that with the task force experience that I've had, it's been like an eight-month training course," she said. "It's been eight months of preparation, in terms of study and looking at facts, and understanding how the district works, and what the needs are in terms of facilities and instruction and programs.
"These are all issues that the board will be dealing with."
Kimball, 37, is among nine candidates campaigning for four available seats on the seven-member board. Winners in the April 5 general election will take office in July.
As an attorney who has worked on educational equity issues in private practice and for the Georgia Department of Education, Kimball is counting on her professional experience giving her insights both appropriate and necessary for grappling with the complex issues now facing the Lawrence school district: shrinking budgets, a widening achievement gap, needing physical upgrades to buildings.
"I'm ahead of the curve, in terms of the knowledge base I have," she said.
Her work on the task force only confirmed her desire to help lead the district.
Kimball saw how assessing the district's facilities needs — that is, school buildings — in connection with actual and anticipated availability of resources — that is, money — could lead to a clear plan for addressing major needs in the district.
The 24 volunteers who were drawn from a variety of professional and personal backgrounds, neighborhoods and school communities, spent eight months studying the issues, collecting data, discussing values and assessing needs before recommending concrete steps for addressing shortcomings: close one school and pursue consolidating others.
The task force also established a dozen criteria to use when considering school needs well into the future.
"I'd like to see us do that same kind of work for our middle and our high schools," Kimball said. "Having a clear vision of where we're going helps all of us understand the steps we're taking to get there."
Among other initiatives she wants to pursue:
• Build effective and productive relationships. Parents at Wakarusa Valley School, for example, have established partnerships with faculty and researchers at Kansas University to help build an effective program that emphasizes STEM — that's science, technology, engineering and math — education at the school. She'd like to see such efforts replicated throughout the district on STEM and other initiatives.
"There are opportunities we are not accessing, in terms of relationships with KU, with relationships with the city," she said. "Especially with resources being more and more limited, we need to be working with other agencies and organizations in the community."
• Look, listen and learn. Transparency needs to be a major priority for the board's work and the administration's operations, she said. Working on the task force exposed Kimball to "depth of division" on issues in schools, and she figures that improved communication could go a long way toward bridging the gaps.
"One place to start is to be sure that when someone is looking for information, it's easy to find," she said, citing the challenge of finding and understanding financial information, even online. "The budget, it's difficult to use on its own terms. Let's not make it more difficult to find, or hard to access.
"We're a public institution. All the business we do needs to be in the public eye, completely."
When it comes to finances, Kimball said that her approach to any budget cuts would involve preserving things considered most important to classroom instruction. Among them: Placing and keeping quality teachers in the classroom; providing quality instruction; fostering strong relationships between students and teachers; and providing professional development for educators.
"Everything else is on the table," she said. "There's not anything obvious, no one thing you can do to solve the problem. We've gone beyond the point there are easy answers."
Kimball grew up on a family farm and attended public schools in Atwood. She went on to earn a bachelor's degree in political science and Spanish at Kansas University and then a law degree at the University of Michigan.
Today, she volunteers at Langston Hughes School. That's where she and her husband, Jason Kimball, a hospitalist at Lawrence Memorial Hospital, have their 5-year-old son, Ian, in kindergarten; another son, Logan, is 3.
The Kimballs had lived in an urban area of Atlanta before choosing to move to Lawrence, in large part because of the public schools. Now, Shannon Kimball wants to work to make the schools the best they can be.
"I have a lot of professional experience in public schools, and I see this as an opportunity to help my community and give back to my community," she said.
Copyright 2018 The Lawrence Journal-World. All rights reserved. This material may not be published, broadcast, rewritten or redistributed. We strive to uphold our values for every story published.