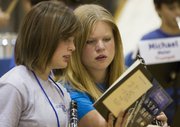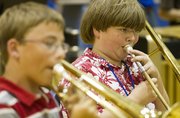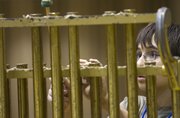 It's that time of year again when kids descend on the Kansas University campus for educational camps on a wide variety of subjects — everything from engineering to basketball to science.
Over at Murphy Hall, hundreds of middle schoolers kicked off the annual Midwestern Music Academy.
Teens anxiously filled the hallways waiting for their chance to impress a camp instructor during auditions.
"This is the hardest part," said clarinet instructor Ashley White. "They've been practicing all year, and they have to come in and play for a complete stranger."
Kansas City, Kan., 13-year-old Matt Lindboe had his big chance in front of White, and he felt pretty good about his audition.
"That was one of my best performances," he said.
For Matt, the camp is chance to have some fun, but also to see where he stacks up against "a lot of the most talented musicians from across the state."
Parents urged their kids on, hoping they'd soak up music lessons from the accomplished KU musical staff.
Lawrence resident Brian Rosenblum was standing by after his son, 13-year-old Shimon, tried to impress with his percussion skills.
Rosenblum said he hopes the five-day camp makes a lasting impression on Shimon, who already spends a good deal of time practicing at home.
"It's a really good chance for kids that age to just be in the music school and get more exposure to music," Rosenblum said.
Copyright 2018 The Lawrence Journal-World. All rights reserved. This material may not be published, broadcast, rewritten or redistributed. We strive to uphold our values for every story published.