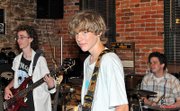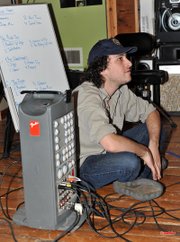 Past Event
When: Saturday, June 11, 2011, 6 p.m. to 9 a.m.
Where: Eagles Lodge, 1803 W. Sixth St., Lawrence
Cost: Free
-->
-->
Adrian Rees and Braden Young exchange looks of satisfaction normally reserved for coaches who are finally getting what they want out of their players. But their students aren't clad in football pads, baseball gloves or basketball jerseys. They're sporting Rickenbackers and Stratocasters.
For the third year running Young and Rees are hosting Rock Camp in the upstairs of Richard's Music, 15 E. Eighth Street, a three-week long program for musicians age 11 to 16 that teaches the finer points of rock 'n' roll.
"A lot of these kids haven't played with other people before, so they come out of the camp with a better understanding of how to communicate ideas, whether it be musical ideas or the ability to communicate with other people in general," Young says.
At this particular moment, The Fuse, one of the program's six bands assembled by Young and Rees, are delivering a rather spirited version of The Sex Pistols' "Submission." Sure, the band is hitting all their cues, but what's really impressing the headmasters is the confidence each of the players are exuding. Honestly, they may be having more fun watching the band, than the band is having fun playing.
"The camp is about playing together and making the song happen from start to finish. We see kids that come in at the beginning of camp not being able to do that and never have done that and by the end, they're playing through four songs. Sometimes it could take a kid a year or two of private lessons to see what they need to do to actually make that happen," Rees says.
There's been a lot made of music and arts education in the last few months, which makes Rock Camp even more interesting. Unaffiliated with a school or other public education program, it exists as something of a free agent. The organizers receive no government money and so aren't hurting from the recent government cuts, though both Rees and Young would love to move Rock Camp into an after school program. And they're not alone.
"I think it's a great program. There's a lot of great teachers and a lot of musical energy," says Luke Peirce, a Free State High School student and member of Ritalin Kids, the closing band in this year's Rock Camp performance at Eagles Lodge, 1803 W. Sixth.
Thomas Boatwright and his older brother Sam, who is both an intern for Richard's Music and a student, transform from quiet types off-stage, mouthing lyrics and blending in with their friends and fellow rockstars-in-training into confident and capable players, once a guitar strap is around their neck or a pair of drumsticks are in their hands. At Rock Camp, it's not uncommon to see the student-musicians wear their guitars well after they're done playing. Partially for convenience (Who wants to put it back in the case?) and partially as a badge of honor.
Young says the difference in some students when they arrive compared with when they leave the camp is tangible.
"Both of our beginner groups have made full turns," he says. "We're super pleased. And that's how it is every year. It stars out and we're like, 'Oh my gosh, is this going to work?' and it always does."
Over the course of Rock Camp, students are split into bands — six in this year's case — and are then allowed to choose their own band name and select two songs of a four-song set that will eventually be played as part of a free concert at Eagle's Lodge. The rest of the camp is spent practicing these songs in front of the groups, taking critiques from their audience of peers and being taught the finer points of rock musicianship. Two different bands rehearse daily for two hours, giving each group four rehearsals total. On the day before the show, all bands gather for a dress rehearsal.
"They also learn about gear. How to operate amps and P.A. and other sound gear and some of the more advanced groups will start working on things like stage presence and live show etiquette — how to get good sound and more advanced things to get them playing in venues," Young says.
For students like Mia Romano, an 11-year-old guitarist that is practically glued to her Stratocaster, the takeaway is obvious. An active student already, playing in Rock Camp has allowed her to play with others, name a band and do Black Sabbath proud with a solid version of "Iron Man."
"They're not teaching her to play. They're teaching them to play together," says Pete Romano, Mia's father. "Every week when get lessons from Americana (Music Academy), she goes home and she watches TV. Now, with a purpose, she sits down and she plays. She plays all the time because she knows she's got to get up in front of people."
Copyright 2018 The Lawrence Journal-World. All rights reserved. This material may not be published, broadcast, rewritten or redistributed. We strive to uphold our values for every story published.