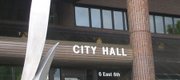 Subscribe to the email edition of Town Talk and we'll deliver you the latest city news and notes every weekday at noon.
News and notes from around town:
• A rural North Lawrence industrial site is set to become a new player in the recycling world. Tonganoxie-based Honey Creek Disposal Co. has signed a deal to purchase the former Lacy Steel Company facility at the junction of Kansas Highway 32 and U.S. Highway 24-40. The site, which is just a bit east of Lawrence Municipal Airport, will be used as a recycling center for the curbside recycling operation that Honey Creek offers in many of the smaller towns in the area, said Charlie Stimac, broker of Triple Creek Realty, which put together the deal. The 13-acre site also will be used as the company's maintenance facility for its trucks. Currently, the company drives all of its recycling into the 12th and Haskell Recycling Center in East Lawrence. So, if nothing else, the facility should cut down on the amount of heavy truck traffic on Lawrence streets.
But, I'll be interested to see if something bigger comes out of it for Lawrence. City leaders over the next year will have serious discussions about creating their own curbside recycling program. A major part of that decision will include where city trash trucks would take the recycling. There already has been some rumblings of partnering with governments in the Olathe area, but would the city be willing to partner with an area business? Does Honey Creek have any interest in partnering with the city? It seems like the timing may be right for a discussion to occur. And perhaps it is the right site too. In addition to having quite a bit of room, the property is along a rail spur, which would make transporting the recycled material out of the area more cost-effective.
• If you find such topics interesting, have I got a deal for you. City leaders tonight will host a special meeting to get input from the public about what changes they would like to see with the city's trash and recycling system, or what changes they don't want to see. The meeting will be from 6 p.m. to 7:30 p.m. at Lawrence City Hall, Sixth and Massachusetts streets. The next year really will be an important one for figuring out how the city handles its trash and recycling services. The city's Solid Waste Task Force will discuss a lot of issues that could result in major changes. There's been talk of whether the city's trash system should be turned over to a private company, although I'm sensing the political chances of that are slim. What seems more likely to happen is that the city will consider making all or at least most of its residents use specialized trash containers that could be picked up more easily by city crews. The carts could allow the city to operate with smaller crews. The issue of whether the city should get into the curbside recycling business or continue to let the private sector do the job also will be a big topic.
City leaders want to hear your thoughts. They really do. It frustrates city types to go through an issue and then receive all the comment at the end. That likely will happen here, but the city is making an effort to avoid that. So head down to City Hall tonight. If you are not completely satisfied with the event, the city will refund your price of admission. (I'm kidding. It is, of course, free to enter.)
• When it comes to recycling, I'm betting lots of folks have recycled a phone directory at some point. Well, in some Kansas cities they soon may have less to recycle. According to an article from the Wichita Eagle, AT&T; is asking for state regulatory approval to no longer publish residential phone listings in three major cities — Topeka, Kansas City and Wichita. In other words, your phone book would have the yellow pages but not the white pages. The white pages always have been the money-losing part of those books. AT&T; argues that customers are using the Internet more and more to find residential phone listings, and of course, many cell phone numbers aren't included in the listings anyway. But the company, according to the Eagle, is under a 1967 regulatory order requiring it to print the residential phone numbers and distribute it to all of their customers. The Kansas Corporation Commission will vote on whether to remove the company from that provision in the Wichita, Topeka and Kansas City markets. The KCC staff is recommending the change, although they do want AT&T; to be able to provide listings — perhaps on CD ROM — for people who request them. Again, Lawrence is not included in the change, but you have to wonder whether this is just step one in a phase out. Of course, there are other companies that publish phone books. It will be interesting to see if AT&T;'s ad sales suffer by not having the white pages as a drawing card. It also will be interesting to see if phone books shrink to the point that I really can tear one in two with my bare hands. I would finally win that bet with my wife.
Copyright 2018 The Lawrence Journal-World. All rights reserved. This material may not be published, broadcast, rewritten or redistributed. We strive to uphold our values for every story published.