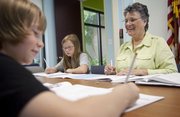 Time to enroll
Any students entering the Lawrence school district for the first time, or after a break of at least one year, must enroll at the district's Welcome and Enrollment Center.
How: Make an appointment by calling 330-1921.
When: The center is open from 7:30 a.m. to 4:30 p.m. weekdays throughout the school year, but be aware: Slots fill up fast as the start of school approaches Aug. 17. "If you have a third- through 12th-grader, plan on an hour," says Kim Young, who runs the center. For K-2, figure 20 to 30 minutes. Some evening appointments also are available.
Where: Southeast corner of the district's headquarters complex, 110 McDonald Drive.
What to bring: Student's birth certificate, immunization record, proof of residency in the district (such as a recent utility bill that includes a parent's or guardian's name and address). "We do not accept a driver's license," Young says. Children ages 5-9 who are entering a Kansas school for the first time also must have documentation of a health physical. And don't forget the kids: They'll need to complete enrollment screening.
Fees: Fee payments also are due, and can be paid in cash, by check or using a credit card. Overall enrollment fees are unchanged from last year.
After living in Connecticut, working in New York and adopting children from Russia, Laura Kirk is feeling right at home as she signs up her kids for classes this fall in Lawrence.
Thank you, Welcome and Enrollment Center.
"They've been fantastic," said Kirk, an actress, director and producer who just moved to Lawrence last month, after having grown up herself in nearby Lecompton. "They obviously have a process here that works really well."
Kirk's kids, Nina and Sasha Givotovsky, are among more than 200 students new to the Lawrence school district who already have visited the center to enroll for the 2011-12 year.
Dozens more are on the way.
With classes set to begin Aug. 17, district administrators plan to be plenty busy during the coming weeks at the center, entering its second year of providing consolidated enrollment services.
The center, at 110 McDonald Drive, aims to provide a smooth, easy-to-understand system for students and families as they enter the district: one place to fill out forms, provide immunization records, take assessment tests and pay fees.
One place to get things done.
"It's like one-stop shopping," said Rick Gammill, the district's director for special operations, safety and transportation, who oversees the center. "We try to provide a resource so that parents don't have to enroll three different students in three different schools. Instead, they go to one place."
In opening the center last year, district officials aimed to create a "revenue-neutral" operation designed to boost services for parents, ease administrative pressures at individual schools, and — perhaps most of all — make things easier for kids as they enter new schools for the first time.
"The principals, all they have to do is worry about welcoming the students," said Vanessa Sanburn, a member of the Lawrence school board who approved creation of the center. "When the students come to the school for the first time, it's really focused on the kids. And that sets up a good start for the experience that the children have at that school."
At the center last week, Kirk applauded the professionalism and support she'd already received: paperwork provided ahead of time so that she could turn it in upon arrival; clear explanations of expectations and services; and helpful insights about academics and sports and activities and everything else available in the district so that Nina and Sasha can get excited about all the opportunities they have to look forward to.
Welcome, indeed.
"They're ready," Kirk said. "They'll meet the challenge."
Copyright 2018 The Lawrence Journal-World. All rights reserved. This material may not be published, broadcast, rewritten or redistributed. We strive to uphold our values for every story published.