-->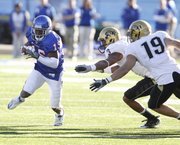 Last season, Kansas University's football wide receivers left more than a little to be desired.
Only Daymond Patterson had a decent year, leading the position in receptions (60), yards (487) and touchdowns (two).
After Patterson, KU's next six receivers combined to haul in just 81 catches for 871 yards and four touchdowns. Clearly, Bradley McDougald, Johnathan Wilson, D.J. Beshears, Christian Matthews, Erick McGriff and Chris Omigie struggled to replace the likes of Dezmon Briscoe and Kerry Meier, record-setting receivers who left KU after the 2009 season.
While part of their shortcoming was attributed to inexperience, a healthy portion of the blame fell on sporadic and inconsistent quarterback play and the installation of a new offense under first-year head coach Turner Gill.
But Year Two of the Gill era has arrived and, with it, so have higher expectations for the Jayhawks' receivers. Gone are Wilson (to graduation) and McDougald (to safety), leaving room for at least a a couple of other wideouts to join Beshears, Omigie, McGriff and Patterson in the quest to make KU's passing game respected once again.
The list of players most likely to fill the starring roles for this year's receiving unit features a few true freshmen, a couple of guys who red-shirted last season and one who switched positions.
While a case can be made for and against just about every receiver on the roster, part three of the Journal-World and KUSports.com's position-by-position summer breakdown series reveals that Patterson, once again, appears to be the team's most solid option.
Here's a look — provided by football beat writer Matt Tait, sports editor Tom Keegan and KUSports.com online editor Jesse Newell — at which players might join Patterson in posting good numbers this fall.
Matt Tait's list
Kale Pick: Might not be Kerry Meier-good (yet), but has taken to the position incredibly well and could be this team's top target in 2011.
Daymond Patterson: Most proven guy in this unit; you know what you're gonna get from DP every time out.
Christian Matthews: Admitted this spring that expectations got the best of him last year. He's ready to start showing people why he's been talked about so much.
D.J. Beshears: It's not route-running, timing or soft hands that make him a solid receiver. It's just that he runs so hard and plays with such intensity.
Marquis Jackson: Too many people in the know have told me that this guy could be the team's top receiver by midseason. Because of that, I couldn't leave him off this list.
Tom Keegan's list
Marquis Jackson: Strong, fast, explosive, from Texas.
Daymond Patterson: The Georgia Tech TD was the play of the season for KU in 2010.
Kale Pick: Smart and fast.
D.J. Beshears: Fast and hard to tackle.
Christian Matthews: Love the way he runs.
Jesse Newell's list
Daymond Patterson: The only senior of the group, he's the best receiver KU has at making a man miss.
Kale Pick: KU receivers coach David Beaty raved about Pick in the spring; Pick has good work ethic and attention to detail; look for a breakout year.
D.J. Beshears: Versatile WR who also can be used in the running game; never gives up on a run.
Chris Omigie: Highly touted receiver should be a bigger part of offense after seven-catch 2010.
Christian Matthews: We've seen this before: Matthews had a big spring game in 2010, then caught just one pass the entire season. After another big spring game, will the deep-play threat produce when it matters in '11?
Journal-World Consensus Top 5 Wide Receivers
(Five points awarded for first, four points for second, three points for third, two points for fourth and one point for fifth.)
Daymond Patterson (13)
Kale Pick (12)
D.J. Beshears (7)
Marquis Jackson (6)
Christian Matthews (5)
Others receiving votes: Chris Omigie (2).
Copyright 2018 The Lawrence Journal-World. All rights reserved. This material may not be published, broadcast, rewritten or redistributed. We strive to uphold our values for every story published.