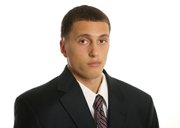 Kansas University's men's basketball team has added a second-semester walk-on player in Christian Garrett, a 6-foot-3 combo guard from IMG Academies in Bradenton, Fla.
Garrett, who hails from Los Angeles, averaged 14.0 points, 7.0 assists and 6.3 rebounds for IMG last fall. Prior to that, he attended Campbell High in North Hollywood, Calif., and Stone Ridge Prep High in Tarzana, Calif.
He will practice with the Jayhawks and attend class the rest of this school year, then be a freshman eligibility-wise during the 2011-12 campaign.
"We're excited and looking forward to having Christian as a member of our basketball team," KU coach Bill Self said Monday. "He and his family notified us that this is where Christian wanted to begin and get his education from the University of Kansas, and we think he will be a great asset. He's a quality young man that will be a great representative of us. He's also a very good athlete that has a chance to be a very good basketball player."
Garrett played for Dinos Trigonis' Belmont Shore AAU team the past three summers. He was a teammate of DeAndre Daniels, a 6-8 forward who is expected to choose KU over Texas and Kentucky soon. The two are good friends.
"He's a late-bloomer growing-wise. He's listed as 6-3. He may be a little taller than that, closer to 6-4," Trigonis said. "He's improved a lot. Although he was inconsistent at times in the summer, he had some good moments, especially offensively. He has a chance down the road. From a walk-on standpoint, he has a lot of long-term potential and academically will enhance the team significantly. He is an excellent student."
Trigonis said several Ivy League schools recruited Garrett, as well as North Carolina State, Alabama, Auburn and Sam Houston State.
"He's very athletic for his size," Trigonis said. "He had a nice dunk in July in Phoenix, one of the best of the tournament."
Garrett qualified for the Top 50 at the Pangos All-American Camp and participated in the Top 40 game for the Pangos All-American LIVE event. Additionally, he was a Top 25 pick on the Fullcourt Press All-West Camp.
Garrett's great uncle, Bill Garrett, played basketball at Indiana University from 1949-51. He has two cousins who played professional sports as well — Mike Garrett, who played football at USC and in the NFL for the Kansas City Chiefs and the San Diego Chargers, and former New York Yankee Chris Chambliss. His mom, Cynthia, is an actress in Los Angeles.
"He has the length and ability to be a good player. For a level like Kansas, it could be difficult, but he definitely has a chance down the road," Trigonis noted.
Copyright 2018 The Lawrence Journal-World. All rights reserved. This material may not be published, broadcast, rewritten or redistributed. We strive to uphold our values for every story published.