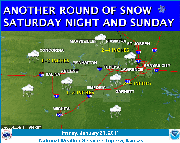 City Hall officials are now reporting that all residential streets in the city have been plowed.
The city manager's office reported that city crews finished the last of the residential streets about 10 a.m. on Friday. Now crews are out doing clean-up work and preparing for the possibility of light snow later today.
Residents who see an area than needs extra snow plow attention can call the city at 832-3031.
The deadline for property owners to clear snow off public sidewalks is still 8 a.m. Saturday, though overtime concerns may keep the city from enforcing the snow shoveling ordinance until Monday morning. You can report any snow-covered sidewalks by calling (785) 832-7700 or by filing a complaint on the city's website.
In addition to Friday's afternoon flurries, the forecast calls for 2-4 more inches of snow Saturday night into Sunday with highs in the low 20s.
You can be the first to know about severe weather and school closings by signing up for LJWorld.com's text and email alerts.
Copyright 2018 The Lawrence Journal-World. All rights reserved. This material may not be published, broadcast, rewritten or redistributed. We strive to uphold our values for every story published.