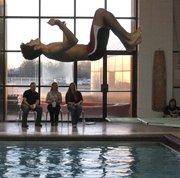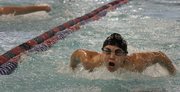 At about three feet deep, the south end of Lawrence High's pool is rather shallow. It usually would be a quirk other teams would have to cope with for just one meet, but not this year.
Lawrence High will host the Sunflower League meet on Feb. 4 and 5, so for Free State High, Wednesday's meet was both about improving times and building a comfort level in the pool, especially in making turns at the shallow end.
Free State won the four-team meet with 473 points, followed by Shawnee Mission North (370), Lawrence High (356) and Leavenworth (89).
"It's important to know the pool you're going to swim at for a championship meet," Free State senior Logan Sloan said. "I think this was a really good practice meet to get the feel for it."
Lawrence High coach Kent McDonald knows it's an advantage to have the league meet at LHS. He said a meet scheduled for Shawnee Mission South on Tuesday has been moved to Lawrence High, mostly because other coaches wanted to get their swimmers' feet wet in the pool at LHS, both figuratively and literally.
"We know our way around, and we'll be prepared for it and know what to do," McDonald said.
McDonald thought his team had a good shot to beat SM North going into Wednesday's meet, but the Indians held off the Lions. He was happy that a lot of his swimmers swam their best times of the season.
"I kind of was expecting that," McDonald said. "But a lot of them did better than I really thought they could do."
LHS junior Zach Andregg won the 500 freestyle in 4:55.32. He hadn't swum the race since last summer despite swimming it at state last season. He's trying it now to give him another chance to swim at state since he already has qualified in the 100 freestyle, the 200 individual medley and the 200 freestyle.
Free State coach Annette McDonald, Kent's wife, said she was pleased with the progress of her team. The Firebirds finished first in 11 of the 12 events. Sloan, senior Tony Libeer and senior Chris Helt took first, second and third, respectively, in the 50-yard freestyle.
Annette McDonald wasn't quite satisfied, though.
"Don't think that we don't have a lot of work to do. A lot of work," Annette McDonald said. "We've got to see some times drop, and we need to have a few more people step up and make qualifying times."
She highlighted the performance of junior diver Austin Neidow, in his first year diving for the Firebirds. Niedow didn't just win the diving event; he also established a high enough degree of difficulty to set him up for a chance to qualify for state.
If he is able to add 5.45 points to the 184.55 he scored Wednesday and maintain his degree of difficulty, he'll qualify.
"We're just feeling stronger and better, faster," Annette McDonald said. "And we're working hard."
The Firebirds and Lions will compete at the SM Northwest Invitational on Saturday.
Copyright 2018 The Lawrence Journal-World. All rights reserved. This material may not be published, broadcast, rewritten or redistributed. We strive to uphold our values for every story published.