A few education-oriented items from around the area: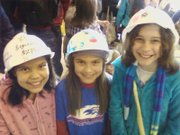 Leave it to a group of fourth-graders to make me feel like an underachieving schlub.
Check out these girls — Mariela Martinez, Bella Decker and Olivia Percich — from Cordley School, all smiling in their hard hats. That's because they'd just accomplished quite a feat Friday during Engineering Expo, at Kansas University's School of Engineering:
They steered a car up a ramp, in all of 10.55 seconds.
"We learned to be imaginative," Bella says.
"Teamwork," Olivia calls it.
"Fun," Mariela says.
The subject of their smiles: Their entry in expo's "Uphill Battle" competition, organized by KU EcoHawks. The competition aimed to spur students into thinking about the role that batteries and electric motors might play in the future of automobiles.
In the competition, students were to create a car that could reach the top of a ramp 10 feet long and four feet high, all while getting the best performance — speed — without costing a lot of money.
The Cordley girls succeeded on several counts. Their "Clover Car" actually made it to the top of the ramp, unlike some of the vehicles fielded by teams in the high school division. And the parts for their vehicle didn't exactly break the bank:
• Lego wheels, picked up at a garage sale.
• Wood leftover from construction of Bella's house, to form the car's body.
• A piece of string they'd found, to be threaded through the emptied body of a KU Endowment ballpoint pen — all to guide the wooden car up the ramp.
• A single rechargeable battery, as suggested in the rules, to power a small engine (also suggested in the rules).
"We never gave up," Bella told me, as eggs dropped from the second floor at Eaton Hall as part of another competition (good thing she was wearing a hard hat). "We went through seven different prototypes. We didn't give up."
Nice work, girls. I look forward to driving one of your real-life cars someday soon.
•••
Enrollment information meetings are tonight at Lawrence's two public high schools, for parents of incoming freshmen and sophomores for 2011-12.
And students can get in on the action, too.
Free State High School has two meetings set: 6 p.m. for parents of incoming sophomores, and then at 7:30 p.m. for parents of incoming freshmen. Students are welcome to tour the school and participate in a club fair from 6 p.m. to 8:30 p.m.
At Lawrence High School, parents of freshmen and sophomores are invited to attend a meeting at 7 p.m.; chairman and chairwomen of the school's various departments will be available to answer questions from 7:30 p.m. to 9 p.m., and current Lawrence High students will lead incoming students on school tours from 7 p.m. to 9 p.m.
•••
Among items up for approval tonight by the Lawrence school board: appointments to the Lawrence school district's team for negotiating with teachers.
Frank Harwood, the district's chief operations officer, would be chief negotiator. Other members would be Mark Bradford and Bob Byers, school board members; Joni Appleman, principal of Deerfield School; Matt Brungardt, principal of Lawrence High School; and David Cunningham, the district's director of legal services, human relations and policy.
The meeting is scheduled to start at 7 p.m. at district headquarters, 110 McDonald Drive.
— The First Bell e-mailbox is always open: mfagan@ljworld.com.
Copyright 2018 The Lawrence Journal-World. All rights reserved. This material may not be published, broadcast, rewritten or redistributed. We strive to uphold our values for every story published.