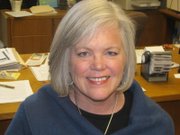 Downtown Lawrence Inc. has hired a longtime Lawrence media personality to ramp up the marketing of the downtown area.
Cathy Hamilton — a book author, freelance columnist for the Journal-World and former Sunflower Broadband television host — took over Tuesday as Downtown Lawrence Inc.'s executive director.
"I really feel like I can tell the stories of downtown," Hamilton said. "Telling the stories is so much of what marketing is. I want to just put more of a face on downtown and really help everybody get to know the people of downtown."
Hamilton fills a position that had been vacant since early January when former director Jane Pennington and the DLI board parted ways.
Hamilton said she plans on keeping many of the events that have been started in downtown over the last several years — although the organization is in search of a new outdoor location to host its summer film festival. Construction has made its previous home at the corner of Ninth and New Hampshire streets unavailable.
Hamilton also said she's working on other event ideas that will be centered around shopping.
"I have some events in mind that have more of a retail emphasis," Hamilton said. "We want to have some events that will allow us to shop while we party."
Increasing downtown's web presence and its use of social networking also will be a goal, she said.
Hamilton has worked downtown for about 20 years, primarily with The World Company, the parent company of the Journal-World, where she was a reporter, television host of "Home & Away," marketing manager and director of BoomerGirl.com. She's the author of 16 books, and developed and marketed a novelty product called Boyfriend-in-a-Box.
Hamilton writes a twice-monthly boomer generation lifestyle column for the Journal-World.
Copyright 2018 The Lawrence Journal-World. All rights reserved. This material may not be published, broadcast, rewritten or redistributed. We strive to uphold our values for every story published.