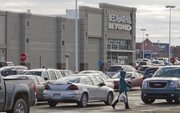 Christmas came one day late for Colin Neill — in a good way.
Monday afternoon Neill used a gift card he received one day earlier at Best Buy to purchase a video game he'd been wanting for a long time, his wife, Karen Mayse, said as they left the store.
"I couldn't bear to buy it myself," said Neill, the head custodian at Cordley School.
Neill also used a gift card to purchase a movie.
In addition to shoppers spending their gift money or cards at stores, the day after Christmas is also traditionally the busiest day of the year for gift returns and exchanges.
The National Retail Federation had forecast busy shopping on the day after Christmas, referring to it as "Manic Monday."
Shoppers in Lawrence, many of whom had the day off from work, seemed to take advantage of warm-for-December temperatures in the high 40s as they hit stores both downtown and in south Lawrence on Iowa Street.
Margaret Warner, owner of The Toy Store, 936 Mass., said the store had steady traffic as shoppers came in to buy things to add on to gifts, such as an extra track for a train set. Many people were also spending Christmas cash or gift cards. "It goes for a good solid week after the big day," she said.
In addition to gift returns, shoppers Monday also looked to take advantage of lower prices. Retailers sought to draw in shoppers with post-Christmas sales.
Morgan Manger and Jenny Xu, both 2011 Lawrence High graduates, said the strategy seemed to work at Urban Outfitters, 1013 Mass.
Xu said she had received email messages about "major sales." It was the first time she ventured out to shop the day after Christmas.
"There was a huge line when we first got there," Manger said.
Copyright 2018 The Lawrence Journal-World. All rights reserved. This material may not be published, broadcast, rewritten or redistributed. We strive to uphold our values for every story published.