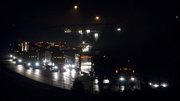 Two people were injured about 3:30 a.m. Wednesday in a three-vehicle accident that included two semitrailers on Interstate 70 in the westbound lanes three miles west of the Lecompton interchange.
According to a Kansas Highway Patrol report, De Q. Le, a 53-year-old Garden Grove, Calif., man driving a 2003 Freightliner semitrailer, slid and came to a stop facing west in the outside lane. Another semitrailer, driven by a 52-year-old man, Charles Steven Drummond, St. Catharine, Mo., then struck Le's trailer.
The report said both vehicles then spun around and struck a 1999 Toyota sport utility vehicle, driven by Lindsay Guthmiller, 21, Lawrence. Drummond and a passenger in Le's truck, Rowland C. Reddick, 46, of Marceline, Mo., were injured. Guthmiller and Le were not listed as injured. Reddick was the only one not wearing a seat belt, according to the report.
Drummond and Reddick were taken to Stormont-Vail Health Center in Topeka. A hospital official said Wednesday afternoon they were treated and released. The National Weather Service had warned drivers Wednesday morning to watch for patches of ice because of the cold temperatures.
Copyright 2018 The Lawrence Journal-World. All rights reserved. This material may not be published, broadcast, rewritten or redistributed. We strive to uphold our values for every story published.