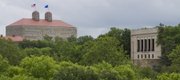 Subscribe to the email edition of Heard on the Hill and we'll deliver you the latest KU news and notes every weekday at noon.
Your daily dose of news, notes and links from around Kansas University.
• I never met Dick Wintermote, the former longtime executive director of the KU Alumni Association who died Monday at age 85.
But from all indications in my conversations with folks who knew him on Monday, he was quite the guy.
Dale Seuferling, president of the KU Endowment Association, told me that Wintermote helped significantly during Campaign Kansas, the fundraising campaign that led to all kinds of improvements for KU, including the Lied Center.
He drew on his numerous contacts with alumni and friends of the university to help with the effort.
"For him, the university was just like family," Seuferling said.
Former KU Chancellor Archie Dykes told me he was the kind of person who was often behind the scenes in many different efforts.
Dykes told me he was instrumental in the effort to provide dictionaries for honors students in Kansas — a program that I believe still exists today.
• The KU student group Compassion for All Animals is up for a Libby Award from peta2, the youth division of the People for the Ethical Treatment of Animals.
"Libby," by the way, is short for "liberation."
You can vote for the group here.
The group is up against similar student organizations from UCLA, Penn State and the University of South Carolina.
Votes are one of three factors in determining the winner, including "the quality of the animal-friendly product or the nominees' enthusiasm for being animal-friendly and feedback from the nominees' fans."
The animal-rights group noted the student group's recent spring fashion show.
• And, as long as we're voting for KU people, you can vote for former KU volleyball player Janaina Correa, a KU graduate from Brazil, who's a finalist on the Brazilian version of The Apprentice.
I don't speak Portugeuse, but I'm told all you have to do is meander over to this website, click on Janaina's name and click "Votar."
• You don't have to vote for anything to submit a tip for Heard on the Hill. Just send me an email at ahyland@ljworld.com.
Copyright 2018 The Lawrence Journal-World. All rights reserved. This material may not be published, broadcast, rewritten or redistributed. We strive to uphold our values for every story published.