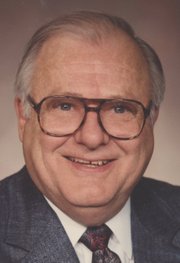 Friends and family remembered a longtime director of the Kansas University Alumni Association on Monday as a great friend and ambassador for the university he loved.
Dick Wintermote, 85, died Monday at Brandon Woods at Alvamar retirement community.
"For more than 20 years, Dick Wintermote was known as one of the most highly respected alumni directors in the nation, but more importantly he was known by generations of KU alumni and friends as the consummate Jayhawk," Kevin Corbett, KU Alumni Association president, said in a written statement. "His contributions to the KU community and the KU Alumni Association are immeasurable."
He graduated from KU in 1951, and succeeded Fred Ellsworth as executive director of the Alumni Association in 1963, and held that post for 20 years. Following that, he served the association as director of special projects until 1985, and served in the same capacity at the KU Endowment Association until 1994.
The Alumni Association found its first permanent home at the Adams Alumni Center, 1266 Oread Ave., during Wintermote's tenure. The building was dedicated in 1983.
KU was "everything" to Wintermote, said his daughter, Terry W. Preston, of Lawrence.
"That was his life," she said. "That and the Delta Upsilon fraternity."
She said her father was personable, humble and "the best father there ever was."
Archie Dykes, who served as KU's chancellor from 1973 to 1980, called Wintermote "a joy" and said he was known for his connections to KU alumni through his "many little acts of friendship."
"He was a man whose judgment I valued, and he did many, many good things when I was chancellor," Dykes said.
Copyright 2018 The Lawrence Journal-World. All rights reserved. This material may not be published, broadcast, rewritten or redistributed. We strive to uphold our values for every story published.