Stan Roth speaks about the annual winter bird count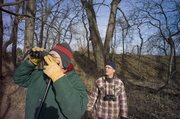 They do it for the birds.
A small group of ornithological enthusiasts — mostly amateurs but with a few biologists to help out — took part in the annual winter bird count on Saturday. The day started at 5:45 a.m. with a predawn owl count and continued well into the afternoon with hiking, bird-spotting and note-taking.
Stan Roth, a retired Lawrence biology teacher, led a group of three surveying North Lawrence and much of the Kansas River bank.
He's an old pro with winter bird counts — his first was in 1956. He wasn't too interested in birds, he said, but his professor was the organizer of the winter bird count around Emporia State University at the time.
"A good student always does what his or her major professor does," he said. "And I kind of got hooked."
Roth said that the count benefited science and the participants, who "just enjoy what they're doing."
Bill Busby, a zoologist with the Kansas Biological Survey (though he was birding Saturday on his own time), said that participants in the count had been working to make it more scientific to increase the importance of the data, which is eventually sent to the Audubon Society.
Busby said that this year things had gone as expected, though the relatively warm day skewed the birds away from the riverbank and spillway.
"The birds have more choices because it's milder," he said. "(The water), they don't always love it, but it's the best choice when things are grim."
The small group within the count spotted at least 65 different species, Roth said.
The count has been a tradition for Roth, whose group included a former student, Jon Standing, this year.
"It's geeky," he said. "But we're not ashamed. We do it for the birds."
Copyright 2018 The Lawrence Journal-World. All rights reserved. This material may not be published, broadcast, rewritten or redistributed. We strive to uphold our values for every story published.