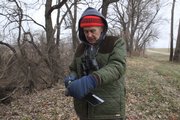 A retired biology teacher who remains devoted to teaching youngsters in the Lawrence area will be inducted into the Kansas Teachers' Hall of Fame.
Stan Roth, who taught biology at Lawrence High School for 38 years before transferring to Free State High School for two years and retiring in 1999, is among nine educators included in the hall's 2011 class.
Roth and his colleagues will be honored during an induction ceremony June 4 at the hall.
"Of course, it's an undeniable honor," Roth said Tuesday afternoon, after helping educate Schwegler School students visiting the Akin Prairie southeast of Lawrence. "But the most important thing is it's a way to get the word out to the public that the profession of school teaching is a worthy profession. It truly is."
More than 350 educators have been inducted into the hall, which was founded in 1977 and is billed as the first teachers' hall of fame in the United States.
To be inducted, an educator must have been a K-12 or vocational school teacher or administrator for at least 25 years and meet a number of standards of excellence.
Other former Lawrence High educators — including Ray Wilbur, who taught math, and Gertrude Ruttan, who taught Latin — already are in the hall.
Bill Medley, who served as Lawrence High's principal from 1966 to 1973, is looking forward to seeing Roth join them.
"The product that he produced as a teacher is almost unparalleled," said Medley, who nominated Roth for induction. "He has many, many former students who have reached a very high level in their professions. He spent hours and hours working with students outside the classroom, and that set him apart from other people."
Copyright 2018 The Lawrence Journal-World. All rights reserved. This material may not be published, broadcast, rewritten or redistributed. We strive to uphold our values for every story published.