Editor's note: This concludes our three-part series examining efforts to reduce bullying in the Lawrence school district. See the first part, on how schools combat bullying, here, and the second part, on the thin line between coaching and bullying, here.
University researchers test innovative programs. State officials gather data. School administrators train educators, educate students and raise awareness.
For leaders in the Lawrence school district, the ongoing drive to prevent and manage bullying problems means looking to such places and beyond for opportunities that could lead to effective change.
"We're always trying to improve," said Rick Ingram, a member of the Lawrence school board.
All schools in the state are required to have anti-bullying plans in place, both to educate students in what to look out for and to train teachers and other employees how to handle bullying problems. Such plans also strive to prevent problems before they can begin.
"It does seem to work pretty well right now," said Kevin Harrell, who oversees districtwide bullying issues as division director for student intervention services.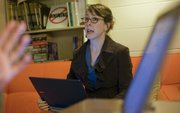 As district schools administer their own plans, Harrell is among administrators statewide set to receive information intended to help guide decisions about how and where to address bullying problems.
Beginning this academic year, the state is mandating that each school track and report the number of bullying incidents occurring on campus and during school events. Those numbers, in turn, will be reported to the department for use in identifying trends that, potentially, could help spur new rules for dealing with bullying in all its forms in the state's 283 districts and more than 1,300 schools.
"We're hoping to collect more information and more data so we can guide decision-making," said Kent Reed, the department's program consultant for counseling.
Research shows that anywhere from 25 percent to 35 percent of students nationwide either have been bullied or have bullied someone themselves, said Anne Williford, an assistant professor of social welfare at KU who follows bullying. And with the rise of cyberbullying — students hiding behind the anonymity of the Internet to deliver their abuse, or feeling more comfortable by not having to look at a victim face to face — such numbers could be even higher.
Momentum for collecting more specific data has been building as bullying awareness grows. Schools organize anti-bullying rallies, provide anti-bullying resources and conduct anti-bullying training for students, teachers and administrators.
But schools and, potentially, districts need solid information upon which to decide which efforts or plans might work best.
"What we want to do is help schools to find the best pathways to finding a safe culture and a safe climate," Reed said. "Data drives decisions. Once we have the data, we can find out what areas of the schools might be susceptible to bullying situations. … And then we can provide them with the resources, the interventions necessary in order to address bullying."
Innovative, international approach
The Lawrence school district already is preparing to tap into some new resources, through a project being conducted by researchers at Kansas University.
Next year, the KU researchers intend to target fourth- and fifth-graders in Lawrence for assistance through a program established four years ago in Finland. The plan, known as KiVa, already is in use for nearly 90 percent of schools in that country, where studies show that bullying and bullying victimization have been reduced by 50 percent.
The goal: See if such success translates across the Atlantic Ocean, starting around Mount Oread and then expanding, they hope, in Kansas and elsewhere in the United States through the introduction of a proven system backed by research, testing and data.
"It's way more than a slogan or a zero-tolerance policy," said Patricia Hawley, an aggression researcher and KU professor of developmental psychology working with Williford on the project. "We're trying to change norms, attitudes, beliefs and behaviors of the large population inhabiting a school, in ways that will foster well being, academic achievement and physical and psychological safety."
Schools no longer can simply respond to incidents and expect to halt bullying, Hawley said.
Pulling a bully aside and delivering a "stern talking-to" isn't all that effective, she said. And helping the victim — while necessary — also isn't likely to address core problems.
Another complication: People who might otherwise be able to stop bullying as it occurs, such as students on a playground or teachers in a hallway, oftentimes choose not to do so because they worry about the repercussions.
"You and I both know the cost of standing up to a bully: That means we're next," Hawley said. "It's a costly behavior."
Changing school 'ecology'
That's why the KiVa system aims to change the "ecology" of a school community, so that everyone inside or outside the building — students, teachers, employees, parents, volunteers — not only understands that bullying is not OK, but that doing something to prevent or halt problems is a worthwhile thing to do.
Supported by training, lessons and materials provided through the KiVa plan, Hawley said, such "bystanders" should find it easier to step in and make a difference because the community's overall fears are reduced.
"If you change everyone's norms and attitudes, you change their behavior," Hawley said. "You give them support and foster their advocacy."
Harrell, who as an administrator helps mediate bullying problems and ensures that the district's antibullying policy is followed, isn't ready to expect the KiVa plan to solve all bullying issues. But he acknowledges that the search for improvement continues, whether it's through individual school plans, state data collection or an international translation effort.
"If one thing's working really well in one building, and there are zero incidents, then let's see what they're doing and see if we can replicate it," Harrell said. "Let's see what's working well, and see if we can duplicate it."
Copyright 2018 The Lawrence Journal-World. All rights reserved. This material may not be published, broadcast, rewritten or redistributed. We strive to uphold our values for every story published.