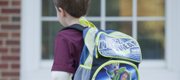 Subscribe to the email edition of First Bell and we'll deliver you the latest local education news and notes every weekday at noon.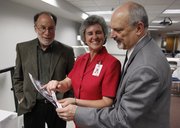 Randy Weseman, former superintendent of the Lawrence school district, confirmed a valuable lesson Tuesday: Connections count.
That's how Weseman, his wife and son ended up in the second row of the gymnasium at Osawatomie High School, awaiting the arrival of none other than the president of the United States.
"I'm staring at a Secret Service agent right now," Weseman reported late Tuesday morning. "I have a former student who's on the advance team. We got an invitation and, more or less, a VIP pass.
"Second row's not bad for an old guy like me."
For the record, Weseman declined to disclose the identity of the student, other than to say she had been a Kansas University student and wasn't from Lawrence.
But he does know this: The media attention focused on President Obama easily eclipsed any coverage he'd experienced during his nine years in charge of Lawrence schools or now as he serves as interim superintendent for the Tonganoxie school district.
"It's a big event," Weseman said. "There are more cameras here than I've ever seen in my life."
•••
The Eudora school district is among seven area organizations, projects and programs hailed by the Mid-America Regional Council as supporting sustainability.
The district's use of high-efficiency heating and cooling systems was among efforts lauded by the council as part of its annual Sustainable Success Stories recognition program. The district's HVAC systems are regulated using technology systems.
The district also won praise for is educational conservation efforts with staffers and the installation of a wind turbine at Eudora High School, which provides electricity for the concessions stand at the football field.
"We are extremely proud of the work we've done in our district over the past several years to find ways to conserve resources," said Don Grosdidier, superintendent of the Eudora district. "It's good practice, both environmentally and financially. You just can't argue with an opportunity that allows us to reduce our environmental footprint and spend less in the process."
The recognition program grew out of a vision adopted three years ago by the council's board, seeking to help guide a next generation of regional policy and planning work. The vision looks to "create and support a sustainable region that increases the vitality of our society, economy and environment for current residents and future generations," the council says.
More information about the program and 2011 honorees — presented last week at the Kauffman Foundation — is available online at the council's Sustainable Success Stories page.
•••
Representatives at Hillcrest School are taking flexible approach to recommending where additional students should come from to fill their plans for an expanded school at 1045 Hilltop Drive.
The representatives, who are part of the Central and East Lawrence Elementary School Consolidation Working Group, at this point are recommending that Hillcrest be expanded to accommodate another 100 students, maybe more.
The representatives' written proposal envisions students coming from Sunset Hill School, 901 Schwarz Road, but working group member Leslie Newman says that other options could emerge. Students could come in from other schools with adjoining borders, she said, such as Cordley or Pinckney schools.
"We see this as a starting point, not an ending point," she said.
Members of the overall working group met Monday night to review four proposals, which came from representatives of Hillcrest, Kennedy, Pinckney and Sunset Hill schools. At least two more proposals — one each from representatives of Cordley and New York schools — are scheduled to be reviewed during the working group's next meeting, set for 7 p.m. Dec. 19 at district headquarters, 110 McDonald Drive.
Copyright 2018 The Lawrence Journal-World. All rights reserved. This material may not be published, broadcast, rewritten or redistributed. We strive to uphold our values for every story published.