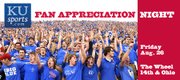 You are invited to our KUSports.com fan appreciation BBQ!
It's still a little too early to predict how well Kansas University's defensive line will perform this fall.
Injuries to key players and the grind of switching over to the 3-4 defense have contributed to the uncertainty surrounding KU's defensive linemen. But while it might be difficult to gauge the unit as a whole, defensive line coach Buddy Wyatt said it had become easier to identify the top individuals as fall camp progressed.
One of the players at the top of the list is junior defensive end Toben Opurum, a former running back, who has emerged as one of the leaders up front. In addition to fine-tuning his leadership skills, Opurum continues to chisel his body into a pass-rushing weapon. Tuesday, defensive coordinator Vic Shealy said Opurum weighed in at 248-249 pounds — up from 240 last year — and was growing stronger by the day.
While Opurum, who technically will play outside linebacker in the Jayhawks' 3-4 defense, is one of the most visible members of the D-Line, several others have started to make names for themselves, as well. One of them, sophomore defensive end Keba Agostinho, has even earned a nickname.
"I call him 'The Technician,'" Wyatt said. "You know he's gonna be in the right spot, doing the right thing and with the right technique. He's been very consistent but our goal for him is to be more productive."
Agostinho was one of the few freshmen who played meaningful snaps last season, though his season totals might not show it. While appearing in 12 games, the 6-foot-3, 253-pound lineman from Katy, Texas, finished with seven tackles — two unassisted — and was credited with one QB hurry and a half-tackle for a loss. Like Agostinho, Wyatt said the defensive line was starting to develop an identity.
"It's still a work in progress," he said. "We're still trying to piece everything together. But I've been pleased with how hard they've been working."
Sack race
One area of emphasis for the KU defense this August has been the importance of putting pressure on opposing quarterbacks. Last season, the Jayhawks recorded just 14 sacks compared to 37 by their opponents. In a 12-game season, that boils down to barely one per game and that, according to the coaches, was unacceptable.
Beginning in the spring, and continuing into preseason camp, the coaches began keeping track of sacks and posting them for everyone to see. As was the case with KU's wide receivers and knockdowns, the public grading lit a fire under the D-Linemen and the Jayhawks have been battling for as many sacks as possible ever since.
"That's a big one," Wyatt said. "You get what you emphasize, and our goal is to get a sack one out of every 10 pass attempts."
The Jayhawks achieved that goal in each of their first two fall scrimmages but fell short last weekend.
As for the race for the title of sack master, that's come down to a battle between Opurum and junior-college transfer Malcolm Walker. Both play the same position, and Wyatt said Walker was by far the loudest sack advocate and that he always was trying to make sure the coaches didn't short him. He currently leads Opurum by a sack or two, Wyatt said.
Depth chart delay?
With a little more than a week remaining before KU's season opener against McNeese State — 6 p.m. Sept. 3 at Memorial Stadium — and the promise of an updated depth chart coming early next week, Wyatt cautioned against getting too excited about what shows up in the early versions of KU's two-deep look at defensive line.
"We still haven't solidified it yet," he said. "We're still trying to get everybody back and get the kinks worked out. They're still learning and I think it's gonna be maybe a couple games into the season before anybody really solidifies a starting role or a back-up role or whatever. Guys have just missed a whole lot of time."
Defensive linemen Patrick Dorsey, Pat Lewandowski, John Williams and Kevin Young all have missed time because of injuries this month. All except Dorsey are back practicing now, though, something that Wyatt said was a case of good timing.
"It's been kind of frustrating because of the injuries and not having them there the whole time," he said. "But we're getting most of them back now and from the rest of this week into next week, we should be able to get 'em caught up."
Lewandowski a D-End
Wyatt said Wednesday that red-shirt freshman Pat Lewandowski, a defensive end from Blue Valley West High who returned from injury Tuesday, was working at his original position of defensive end.
Moved to defensive tackle this spring because of a lack of bodies at the position, Lewandowski performed great inside despite having little experience on the interior.
"He really showed up well and it seemed like a natural position for him," Wyatt said. "He does things really well instinctively inside."
At the end of spring drills, head coach Turner Gill announced that Lewandowski was moving back to defensive end. Wednesday, Wyatt explained why in greater detail.
"Size and strength-wise, he's still not where you want an inside guy to be," Wyatt said. "And so that's probably more the case than anything else for moving him back outside."
As for the idea of Lewandowski adding weight to his 6-6, 265-pound frame, Wyatt said the coaching staff would take a wait-and-see approach.
"I tell him just let nature take it's course," Wyatt said. "Just make sure you're eating properly, working out hard and you're running hard. If you're gonna be a 270-pound kid, then you're gonna be a 270-pound kid. If you're gonna be a 290-pound kid, then you're gonna be a 290-pound kid. So we'll let nature take its course and if he gets big then we know he can play inside."
Copyright 2018 The Lawrence Journal-World. All rights reserved. This material may not be published, broadcast, rewritten or redistributed. We strive to uphold our values for every story published.